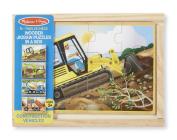 $11.99
ISBN: 0000772037921
Availability: Usually Ships in 1-5 Days
Published: Melissa & Doug - April 24th, 2007
---
Young MacDonalds will enjoy "down on the farm" fun with this fully assembled, wooden barn. Two-story barn is stocked with seven realistic plastic farm animals, a wooden ladder and a folding corral. Chunky handles let you take your bit of "country" wher
---

$11.99
ISBN: 0000772037914
Availability: Usually Ships in 1-5 Days
Published: Melissa & Doug - April 18th, 2007
---
$12.99
SKU: 0000772007757
Six puzzles in one! There are 16 solid wooden cubes in this unique puzzle. Rotate the cubes in the included wooden tray to complete colorful pictures of six different farm animals. (The border design provides a helpful hint!)

Dimensions: 8" x 8" x 2.25"
---
Children can imagine having a whole host of pets with this 4-in-1 peg puzzle! Color-coded pegs and matching pictures underneath each piece make it easy and lots of fun for children to place the bird, goldfish, cat, and dog into the sturdy wooden puzzle board, which is also imprinted with the name of each animal for spelling and word-skill practice. Includes 16 pieces in all.

Dimensions: 11.5" x 15.5" x 0.25"
---
$19.99
SKU: 0000772049436
Fashion fun is good to go with this amazing magnetic dress-up set. 2 double-sided, wooden figures with stands are provided for your fashion-minded little girl to dress-up with in this collection of magnetic tops and tights. Hair accessories are also in
---
$14.99
SKU: 0000772037983
Animal lovers, here's the stamp set for you! Mix and match the detailed stamps with images of wild and domestic animals from land and sea, to create hundreds of beautiful scenes. All the pieces, including 16 stamps, 7 colored pencils and a durable inkp
---
Kids can fill their need for speed with this cool craft kit! Includes complete supplies to design and personalize a race car, including wooden wheels and axles, paints, brush, glue, stickers, and easy directions. Put youngsters on the "fast track" to building and racing fun!
---
$29.99
SKU: 0000772098434
May I take your order? This wooden tea set has everything your little one needs to host the perfect pretend tea party: teapot with lid, two cups, two spoons, a sugar bowl, a milk pitcher, six tea varieties, and two cookies. Tea bags with brightly colored
---
Imagine a landscape full of dinosaurs! Children love using the 8 detailed dino stamps and a two-color inkpad. It's fun creating countless scenes, and coloring in the pictures with the 5 colored pencils! This well-crafted set is conveniently contained in a sturdy wooden box for organizing and storage. It's a tremendous value that children will use over and over again! Washable, non-toxic kid-friendly ink.

Dimensions: 1.8" x 8" x 8.5" Packaged

Recommended Ages: 4+ years
Conforms to ASTM D-4236.
---
Looking for the perfect spot for storing those treasures that are close to your heart? This kit includes a sturdy wooden heart-shaped box (3.1 x 1.4 x 2.9 in.), glitter glue, white glue, colorful gem stickers, 4 pots of paint, and a paintbrush. A perfect activity for parties or rainy days.

WARNING: Choking Hazard - Small parts. Not for children under 3 yrs.
Conforms to ASTM D-4236.

Product: 7.5" x 5.5" x 1.75" Packaged 0.3 lbs
Package: 7.1" H x 5.2" W x 2" L
---
A dramatic prehistoric scene comes to life when the wooden jigsaw pieces are assembled! Brightly illustrated with dinosaur details, this 24-piece puzzle comes packaged in a sturdy wooden tray for puzzle-building and easy storage.

Item # 9066
Product: 15.75"L x 11.75"W Packaged 1.45 lbs
Package: 15.7" H x 11.7" W x 0.4" L
---