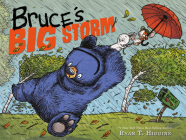 $17.99
ISBN: 9781368026222
Availability: Click Title for IN STOCK Location
Published: Disney-Hyperion - September 3rd, 2019
Bruce's home is already a full house.




But when a big storm brings all his woodland neighbors knocking, he'll have to open his door to a crowd of animals in need of shelter-whether he likes it or not.




Readers will love this next installment of the uproarious, award-winning Mother Bruce series.
---

$18.99
ISBN: 9780670016440
Availability: Click Title for IN STOCK Location
Published: Viking Books for Young Readers - August 27th, 2019
Mama Llama teaches Llama Llama a humorous lesson in cleaning up in Anna Dewdney's bestselling Llama Llama series.

Time to pick up all your toys!
Why is Mama making noise?
Mama says it's cleaning day.
Llama only wants to play.

---

$7.99
ISBN: 9780358040613
Availability: Click Title for IN STOCK Location
Published: HMH Books for Young Readers - September 3rd, 2019
Join Curious George's birthday party in this rhyming novelty board book featuring a crinkly iridescent party hat on the top of George's head.

It's party time—hip hip hooray!
Put on your hat. Let's dance and play!

George decorated with lots of balloons.
Turn on the music!

---

$5.99

ISBN: 9781534452824

Availability: Click Title for IN STOCK Location

Published: Little Simon - August 27th, 2019

What's the best way to say good night?

---

$7.99

ISBN: 9781452170817

Availability: Click Title for IN STOCK Location

Published: Chronicle Books - August 13th, 2019

What is Baby Llama's favorite food? Follow along with this cute baby animal as it experiences its world, from playtime to bedtime. The simple, comforting story in this go-to baby gift series have made it a multimillion seller.

---

$8.99

ISBN: 9781452181769

Availability: Click Title for IN STOCK Location

Published: Chronicle Books - August 13th, 2019

Part of the wildly popular Old MacDonald series by Steve Goetz!

With a DIG, DIG here and a SCOOP, SCOOP there, the board book edition of Old MacDonald Had a Truck introduces favorite machines to readers ages 2 to 4 years old.

From the excavator, dump truck, bulldozer, and more, this book will have vehicle-obsessed kids reading and singing along.

---

$7.99

ISBN: 9781534443198

Availability: Click Title for IN STOCK Location

Published: Little Simon - August 6th, 2019

From the creator of Dear Zoo comes a Dear Farm lift-the-flap book that showcases all of the animals hiding on the farm!

Little ones are sure to love lifting the sturdy flaps to discover the farm animals as they travel through the barnyard in search of eggs for breakfast.

With bright, bold artwork, a catchy refrain, and a whole host of furry farm-dwelling friends, Oh

---

$7.99

ISBN: 9780316488860

Availability: Click Title for IN STOCK Location

Published: LB Kids - July 2nd, 2019

Be careful what pet you wish for in this hysterical story from bestselling author Ame Dyckman and beloved illustrator Liz Climo, now as a board book!

---

$8.99

ISBN: 9781930238893

Availability: Click Title for IN STOCK Location

Published: Yosemite Conservancy - August 13th, 2019

Delight in nature with Little Muir

This playful book invites children to ramble through rolling hills, climb friendly trees, and listen to bird song on the breeze as they follow along with famed conservationist John Muir's lyrical prose and award-winning illustrator Susie Ghahremani's irresistibly cheerful paintings.

---

$17.99

ISBN: 9781368009447

Availability: Click Title for IN STOCK Location

Published: Disney-Hyperion - July 9th, 2019

You remember Unicorn. You know, Goat's friend? The one who can fly, make it rain cupcakes, and turn things into gold? On the first day of school, Unicorn expects to make his usual big splash. But no one pays him much attention--the other kids are much more interested in the latest trend in toys: rubber bands that look like other things.

---

$17.99

ISBN: 9780374310455

Availability: Click Title for IN STOCK Location

Published: Farrar, Straus and Giroux (BYR) - July 23rd, 2019

Aidan Cassie, the creator of Sterling, Best Dog Ever, employs her pitch-perfect humor and heartwarming illustrations here again to help little ones love themselves at any size in Little Juniper Makes It BIG.

---

$17.99

ISBN: 9781250120366

Availability: Click Title for IN STOCK Location

Published: Henry Holt and Co. (BYR) - July 2nd, 2019

This joyful picture book celebrates middle children and sibling love.

When you're in the middle . . . you're not the oldest, and you're not the youngest. You are right in between. There's someone bigger who helps you and someone smaller who needs you. From the middle, you can see both sides.

---