Selection from our Stationery Section

$8.99
ISBN: 9781441330871
Availability: Click Title for IN STOCK Location
Published: Peter Pauper Press - June 1st, 2019
---

$12.99
ISBN: 9781441330093
Availability: Click Title for IN STOCK Location
Published: Peter Pauper Press - January 1st, 2019
---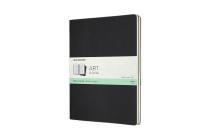 $22.95
ISBN: 8058647626871
Availability: Click Title for IN STOCK Location
Published: Moleskine - February 20th, 2019
Moleskine Art Cahier, Music Notebook, Extra Large, Black (7.5 x 9.75)
---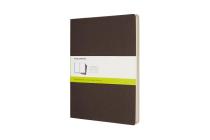 $19.95
ISBN: 8055002855327
Availability: Click Title for IN STOCK Location
Published: Moleskine - May 3rd, 2017
Cahiers are lightweight, flexible, everyday journals with customizable covers. Visible Singer stitching, natural colors and tactile raw cardboard add a handcrafted feel to your writing. The last 16 sheets are detachable and there is a pocket for loose notes. Cahier Journals come in sets of three, making them ideal for organizing separate projects or plans.

---
Cute and quirky thank-you cards are a hoot!

Premium boxed stationery set comes with 14 note cards and 15 matching envelopes.
Quality card stock takes pen beautifully.
Card interiors are blank for your personal messages.
Cards measure 5 inches wide by 3-1/2 inches high.
Three colorful owls perch on a branch next to the words ''THANK YOU.''
Glossy highlights accent the details.
Design is set off by cute scalloped edging against a red-and-white polka-dot border.
The flaps of the enclosed envelopes are also red with white polka dots.
Stationery set comes in a coordinating box with a clear acetate lid.
Card set makes a welcome gift, too!
---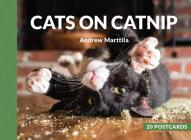 $9.95
ISBN: 9780762467280
Availability: Click Title for IN STOCK Location
Published: RP Studio - October 8th, 2019
Send friends and family near and far completely adorable postcards of cats as they play with, roll in, and chow down their favorite snack of choice -- catnip.If you believe cats are nothing but grace and sophistication, then you've never seen a cat on catnip!
---

$9.99
ISBN: 9780735344662
Availability: Special Order
Published: Galison - June 16th, 2015
The Fawnsberg Pen Set from Galison combines an exuberantly folksy style with quality writing tools to create something truly special. The set of three black ballpoint pens are decorated with colorfully floral patterns and packaged in a clear acetate box. Each pen features a unique design.
• 3 black ballpoint pens
• Full color printed barrels
• Packaged in acetate box
---

$14.95
ISBN: 9781452173016
Availability: Click Title for IN STOCK Location
Published: Chronicle Books - February 19th, 2019
The lush beauty of Floret Flower Farm is captured in these beautiful cards featuring photographs of glorious sweet pea blooms. Perfect for a lovely birthday greeting, a thoughtful thank-you, or a cheerful hello, these garden-fresh cards are sure to brighten any recipient's day.
---
$11.99
SKU: 4005401083832
In an age dominated by PCs and the Internet, can people still get excited about pencils? Yes, they can: Short, long, round, square, smooth, with integrated sharpener and eraser - there is no end to the attractive innovations. The only one pencil of its kind anywhere in the world: Grip 2001. The patented Soft-Grip zone prevents fingers from slipping. The ergonomic triangular shape ensures fatigue-free writing. The surface coating is made from environmentally-friendly water-based paint, a technology first introduced by Faber-Castell. The lead is fully bonded with the wood surround, making it particularly break-resistant.

Outstanding graphite pencil with eraser for writing, drawing and sketching
Environmentally safe water-based coating
Extra break-resistant due to SV bonding
Egonomic triangular shape ensures tireless writing
Grip-zone for secure, non-slip grip
Degree of hardness: HB
Available in 2 degrees of hardness: HB and B
---

$14.95
ISBN: 9780762467020
Availability: Click Title for IN STOCK Location
Published: RP Studio - October 8th, 2019
This keepsake journal -- with a cozy flocked cover inspired by Mister Rogers' iconic red cardigan -- is a wonderful way to celebrate and remember your favorite friendly neighbor.

---

$14.95
ISBN: 9781452167244
Availability: Click Title for IN STOCK Location
Published: Chronicle Books - September 4th, 2018
The best way to a bibliophile's heart is through a big pile of books. This colorfully illustrated notecard set features 20 different book stacks. With themes ranging from beloved novels to essential cookbooks, there is a the card for booklovers of all tastes.
---