When Everyone Was Fast Asleep
by Tomie dePaola. This book is classic Tomie dePaola. The Fog Maiden and her cat Token are sent to visit a young boy and girl to show them how everyday items can be magical and can take on a life of their own. This board book edition is a beautiful, poetic bedtime fantasy story. A perfect treat for the holidays or anytime. ~
Jeanette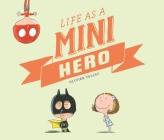 Life as a Mini Hero
by Olivier Tallec. A very amusing look at the trials and tribulations of what it means to be a mini hero. With an array of characters in various scenarios, it becomes clear that the inner lives of mini heroes is just as whirlwind as their very adorable public personas. ~
Jessica Wood

Ruby Finds a Worry
by Tom Percival. One day Ruby, who is usually carefree, discovers she has a "Worry" that is following her around, and it's growing. When she notices her friend also has a "Worry," they discover a solution. If you share your concerns with someone, the "Worry" will go away. ~
Lori Stalcup

Margaret Wise Brown 5-Minute Stories
by Margaret Wise Brown. Eight original stories by the author of Goodnight Moon, each illustrated by a different artist. The stories cover counting, seasons, adventure, nature, and dreams. Brown teaches children that stories can inspire creativity, and encourages them to anticipate what comes next. The rhymes are as fun for the reader as they are for the child who listens. ~
Beth Byrne

Peace, Love, Action!: Everyday Acts of Goodness from A to Z
by Tanya Zabinski. I learned so many new things reading this gem! Filled with captivating profiles of peaceful activism and mindful living, the author presents an inspirational handbook for your young person's inner advocate. What would you take a stand for? ~
Linda Then

Paper World: Planet Earth
by Bomboland. My only objection about this book is that it wasn't available when I was a kid! With beautiful artwork and enticing flaps, this gorgeous book is an engaging and fresh approach to teaching the beauty and wonders of our one and only home, Planet Earth. ~
Linda Then

Overview, Young Explorer's Edition: A New Way of Seeing Earth
by Benjamin Grant & Sandra Markle. Do you have a child who enjoys learning about things, places, and nature? This collection of satellite images of the Earth is for them! They'll see airplane graveyards, diamond mines, natural landmarks, and oil rigs. Plus, they'll learn how nature and man have impacted, or could impact, each other ~
Jeanette

The Fountains of Silence
by Ruta Sepetys. From historical fiction rockstar Ruta Sepetys comes a hauntingly beautiful novel about the aftermath of the Spanish Civil War and the secrets hidden by governments and families alike. Great for lovers of historical fiction, mysteries, and well-researched novels. Teens and adults! ~
Amy Depoy

Will Byers: Secret Files (Stranger Things)
by Matthew J. Gilbert. Every
Stranger Things
fan needs this binder full of all sorts of fun memorabilia. Inside you will find photos, drawings, letters, and newspaper clippings, as well as notes written by Will. Sure to be a hit this holiday season. ~
Lori Stalcup

We Are All Greta: Be inspired by Greta Thunberg To Save The World
by Valentina Giannella & Manuela Marazzi. This book follows Greta Thunberg's activism, her rise to fame, and her teachings. Perfect for anyone looking to learn more about what they can do to help save our planet—good for adults, too! ~
Amy Depoy

Jackpot
by Nic Stone. A book to remind us of the giving spirit of the holidays. Impoverished Rico teams up with affluent Zan in an enlightening journey which showcases the detriments of living "paycheck to paycheck." In classic Nic Stone style we are introduced to a host of diverse and supportive characters that make this work sing. Stone touches on absurdity, romance, and generosity of spirit, leaving the reader not with a bitter taste of the unfairness of it all, but rather a belief in the possibility of our actions being the means for change. ~
Dous Madany

Make Trouble Young Readers Edition: Standing Up, Speaking Out, and Finding the Courage to Lead
by Cecile Richards & Lauren Peterson. Cecile was a young person fi lled with a burning passion to fi ght for the rights of all people. In this memoir, we learn that from the beginning she was a conscientious objector in school. She continued to push on in her life's work and eventually became the head of Planned Parenthood. In this role, she was tested by current political entities that wished to "make a deal" by giving up women's rights for money. Her strength of character prevailed and the fight continues. What will you do? ~
Wendy Marie
Manchester students are such enthusiastic readers, we asked them to write book recommendations for us! We are proud to present seven of our favorites.

Lalani of the Distant Sea
by Erin Entrada Kelly. Twelve-year-old Lalani's mom pricks her finger and falls ill, so she has to face an impossible task: to travel to legendary Mount Isa. But generations of men have failed, so how can ordinary Lalani succeed in getting there? I like this book because it has lots of turns this way and that. It's also mysterious and makes you feel like you're actually on the journey. If you liked Wild Magic then I think you'll really like this book! ~ Abby

It's Me, Two. (Catwad #2)
by Jim Benton. If you liked the last Catwad book,
Catwad: It's Me
, you're going to love this one:
Catwad: It's Me, Two!
It may be great reading for you, but Catwad better watch out because Blurp is out to ruin his life. There's more comics, more jokes, and, you guessed it, more Blurp. ~ Collin

Weird Little Robots
by Carolyn Crimi & Corinna Luyken. Penny Rose has just moved to a new town! She loves making weird robots and has five unique ones that she has made from things she just finds. She thought nobody would like her until she met Lark. The two girls find something Penny Rose did not know before Lark. It was like magic. If you like robots and a little imagination this is the perfect book for you! ~ Thira