We Found a Hat
by Jon Klassen. Two turtles discover a stray hat: it looks great on both of them, but there is only one hat to go around. How will the turtles cope? This brilliantly illustrated book about compromise, fairness, and friendship completes Jon Klassen's Caldecott-winning series with simple humor and honesty. ~
Aubrey Restifo

Penguin Problems
by Jory John & Lane Smith. Penguin's existential crisis takes the form of endless complaints about everyday life in this hilarious book from Lane Smith and Jory John. Young children will recognize Penguin's incessant whining as familiar territory and will appreciate a wise walrus's perspective-lending monologue when delivered aloud by an engaging reader. Ages 4-8. ~
Aubrey Restifo

Oskar Loves...
by Britta Teckentrup. A charming book about the vast amount of things Oskar loves. The simple, boldly colored illustrations are beautiful and full of expression and emotion. The story is an opportune moment to engage young ones by asking, "What do you love?" ~
Jessica Wood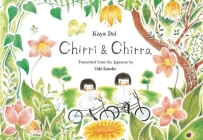 Chirri & Chirra
by Kaya Doi. Translated from the Japanese, Doi's lovely book captures the justrightness of a child's day out. When Chirri and Chirra go for a bike ride, they find all kinds of magic in the forest: a woodland creature hotel, tiny shops and even a little cafe! Sweet simplicity. ~
Aubrey Restifo

Leaping Lemmings!
by John Briggs & Nicola Slater. Larry is very independent - you won't find him jumping off of a cliff behind his fellow lemmings. As he endeavors to teach this brood to think for themselves and avoid making terrible group decisions, he remains true to himself, the real charm of this wonderfully inventive tale. ~
Jessica Wood

No Fair! No Fair! and Other Jolly Poems of Childhood
by Calvin Trillin & Roz Chast. In the spirit of Shel Silverstein and Jack Prelutsky, here is a collection of delightful poems and charming drawings depicting childhood struggles. ~
Martha Cornwell
Magnetic Poetry Kids' Kit
. Has more than 360 magnetized word tiles to encourage imagination, creativity and language building in children. ~
Jessica Wood

Missy Piggle-Wiggle and the Whatever Cure
by Ann M. Martin. Continuing in the tradition of Mrs. Piggle-Wiggle, Missy has taken over running the Upside-Down House and works her magic on children's worst behaviors with clever potions and inventive gadgets. A sweet take on a classic story that will delight children and parents alike. ~
Martha Cornwell

Finding Perfect
by Elly Swartz. Ever since Molly's mom left to take a job in Canada her life has been turned upside down. She knows there is something wrong with her when she can't stop the counting in her head. It all comes to a halt when she falls apart during the finals of the poetry slam. Molly's authentic voice and strength of character will have readers rooting for her! ~
Whitney Kaaz

The Secret Horses of Briar Hill
by Megan Shepherd. In Briar Hill, an English estate for young TB patients evacuated from the Blitz, Emmaline sees winged horses through the hallway mirrors. When one escapes into her world to recover from an injury, she must protect it from the pursuing darkness. Part
Secret Garden
, part
Book Thief.
~
Jennifer Armstrong

The Secret Keepers
by Trenton Lee Stewart. Fans of Stewart's
Mysterious Benedict Society
will not be disappointed! When Reuben finds an enigmatic watch, he lands himself in a decades-long mystery that has imposed a creepy Orwellian gloom over the city. With intriguing twists and turns, and full of characters both sinister and stalwart. ~
Jennifer Armstrong

Teddy & Co.
by Cynthia Voigt & Paola Zakimi. This delightful early chapter book/ family read-aloud may remind you of Winnie the Pooh. It shares the same benevolent spirit with that beloved classic, as well as a handful of toys and a gentle teddy bear in the lead. Perfect for the very young but advanced reader. ~
Jennifer Armstrong

The Poet's Dog
by Patricia MacLachlan. A novel right up there with the author's other gems! Two children, a poet and a dog come together in a unique manner, and each impacts the other characters' lives. Mystical and spiritual elements mixed in with realism create a magical tale of loss, love and finding yourself again. ~
Jeanette

The Way Things Work Now
by David Macaulay. A stunning update and expansion of the classic
The Way Things Work
. A charming woolly mammoth leads us on a wonderfully illustrated path of discovery, unraveling the histories and mysteries of our mechanical world, masterfully laying bare the formerly "invisible" workings of our digital age. Sure to delight and illuminate. ~
Patti Vunk

101 Books to Read Before You Grow Up: The Must-Read Book List for Kids
by Bianca Schulze. The perfect gift for the young bookworm. A brightly illustrated compendium of great books, full of recommendations, facts and space for readers to make their own comments. ~
Martha Cornwell

Trailblazers: 33 Women in Science Who Changed the World
by Rachel Swaby. Did you know that women scientists developed Kevlar, GPS and windshield wipers? These awe-inspiring stories will spark budding scientists to recognize the accomplishments of smart, fiery and unconventional women in all scientific fields. ~
Martha Cornwell

The Diabolic
by S. J. Kincaid. Although Nemesis has been told that she doesn't "have humanity," she knows enough about being human to serve and protect. When her charge is arraigned, Nemesis goes in her place in order to keep her safe. Suspenseful, edgy, and original, this is the must-have YA fantasy of the year. ~
Aubrey Restifo

Gemina
by Amie Kaufman & Jay Kristoff. This much-anticipated sequel to
Illuminae
is sure to be one of the hottest YA titles this season. Again told via emails, chats and stunning graphics, Gemina introduces two characters who form an unlikely relationship as they, too, get caught up in the elaborate conspiracy that seeks to destroy humanity. ~
Aubrey Restifo

Holding Up the Universe
by Jennifer Niven. Jack and Libby's lives become entangled when a cruel high school prank lands them both in group counseling. Told from alternating points of view, this teen story about an unlikely pair forging a friendship is proof that one can find a sense of kinship in the most unexpected circumstances. ~
Jessica Wood

I Dissent: Ruth Bader Ginsburg Makes Her Mark
by Debbie Levy & Elizabeth Baddeley. Spunky Ruth grew up when girls did not do "man things" (become educated, get jobs outside the home, fight injustices). But Ruth and her mother felt differently and this attitude (and gumption) carried her right up to becoming a Supreme Court Justice. ~
Jeanette

Some Writer!: The Story of E.B. White
by Melissa Sweet. An utterly charming account of E.B. White and his life. Punctuated by Sweet's charming illustrations along with photographs, letters and quotes, this volume illuminates the formative years of one of the most beloved writers of our time. ~
Jessica Wood

Fanny in France: Travel Adventures of a Chef's Daughter, with Recipes
by Alice Waters & Ann Arnold. Waters, founder of Chez Panisse, recounts with cheerful vignettes the memories and adventures of her nine-year old daughter as they made their way through France, eating and exploring. With 41 beginner recipes to encourage young chefs and adults alike to try their hand at French cooking. ~
Jessica Wood

Snow White: A Graphic Novel
by Matt Phelan. This beautiful graphic novel re-telling of the Snow White story is set New York City of the roaring twenties and the great depression. Through gorgeous atmospheric art, perfectly chosen sparse text, and a well presented historical setting, the classic fairy tale is updated for a new generation. ~
Rachel Person

Ghosts
by Raina Telgemeier. Hit author of
Smile
brings another story of family! When Catrina's family moves to northern California, she should be happy; the air will help her sister breathe more easily and make her strong. But their neighbor is obsessed with ghosts and Catrina fears the supernatural - can she overcome that for her sister? ~
Leah Moore