Outside
by Deirdre Gill. Come Outside with Vermont author/illustrator Gill. Her first story (inspired by being told "Go outside") is a simple, vibrant and lovely story of imagination and the wonder of Winter! Bright, soft illustrations will inspire you and your little one for hours of reading fun! ~
Jeanette Sessions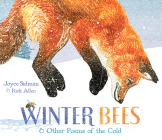 Winter Bees & Other Poems of the Cold
by Joyce Sidman, illus. by Rick Allen. A sensory, atmospheric collection, a visual, educational and poetic treat. Each page contains information about a different seasonal hallmark, from animals to the weather, accompanied by colorful pastel illustrations. Perfect for science, poetry and art lovers alike! ~
Paige Mushaw

Flora and the Penguin
by Molly Idle. Flora returns with an icy adventure and a new friend - a penguin. This wordless journey into the give and take of friendship will leave you cheering for its happy ending. Gorgeous illustrations and revealing flaps allow the reader to interpret the story. ~ Jen Muchler

Sally in the Snow
by Stephen Huneck. Sally loves what's best about her native state in the winter - Snow! She and her friends explore it all on their mountain holiday. Beautiful folk interpretations of the dogs and their Vermont surroundings make us glad there is still more of Sally to enjoy. ~ Jen Muchler

I'll Give You the Sun
by Jandy Nelson.  A must read for anyone who loved The Fault in Our Stars, with interesting, artsy characters struggling with their relationships until they finally put the pieces together and find a way back to each other. The writing is drenched in emotion and electricity. ~
Fran Tobia

Skink No Surrender
by Carl Hiaasen. Meet Skink: crusty eco-warrior, wealthy hobo, renegade ex-governor. When he teams up with young Richard to track down Richard's missing cousin Malley, who may have been abducted by a creep she met on-line, the result is pure Hiaasen. Plenty of craziness and one Florida speedboat of a plot. ~
Jennifer Armstrong

The Accidental Highwayman
by Ben Tripp. Land pirates and warring fairies in Georgian England! Poor Kit Bristol never meant to become a highwayman, but his honorable efforts to do the right thing make him a true hero. The style is Tristram Shandy but totally accessible and great fun!  ~
Jennifer Armstrong

Anatomy of a Misfit
by Andrea Portes. Struggling with everyday high school dramas, Anika does her best to be a good person, especially for those facing serious problems - just about everyone. This contemporary teen dramedy, narrated with deadpan humor, is an entertaining exploration of social issues, with a provocative, heartbreaking finish. ~
Paige Mushaw

Animalium
by Katie Scott and Jenny Broom. A beautiful oversized volume filled with gorgeous images that mimic vintage nature plates. Very pleasing with excellent content that helps put the Animal Kingdom in order. ~
Jessica Wood
Dear Malala, We stand with You
by Rosemary McCarney with Plan International. This is a perfect gift for kids of all ages, written to Malala Yousafzai, the recipient of the 2014 Nobel Peace Prize, in the form of an open letter. The message is simple, "Education is the only solution. Education first." ~
Whitney Kaaz
James Herriot's Treasury for Children: Warm and Joyful Tales by the Author of All Creatures Great and Small
illus. by Ruth Brown and Peter Barrett. Truly a treasure! This beautifully illustrated collection of all of James Herriot's stories for children is a wonderful addition to every family's library. Heartwarming and inspiring tales for all readers great and small. ~ Patti Vunk

The American Story: 100 True Tales from Ame-rican History
by Jennifer Armstrong . Penned by our Saratoga bookseller Jennifer Armstrong, the tales in this volume take their inspiration from many facets of history. Succinct and engaging, this is the perfect introduction for a budding history buff. ~
Jessica Wood

Animals That Make Me Say Ouch!: Fierce Fangs, Stinging Spines, Scary Stares, and More
&

Animals That Make Me Say Wow!: Secret Hideaways, Infrasonic Hearing, Bubble Gills, and More
by Dawn Cusik. These books are packed with informative, full-color photos and interesting facts. Young animal lovers, new readers and even parents will discover something new in these pages. ~
Krysta Piccoli
FAIRY TALE

Hansel & Gretel (A Toon Graphic)
by Neil Gaiman, illus. by Lorenzo Mattotti. This incarnation of the classic tale is a creepy delight with swirling lines and a nod to the original. The illustrations take center stage cleverly using negative space. Visual storytelling at its best. ~
Jessica Wood
HOLIDAY!

Just Right for Christmas
by Birdie Black & Rosalind Beardshaw. The king buys Christmassy fabric for a gift and puts the leftover scraps on the doorstep. Gradually, Christmas presents are made and the scraps passed on to the next person in need. A magical story about the spirit of giving. ~
Whitney Kaaz
Bead Bottle
. Each bottle comes with everything you need to make two distinctive and unique jewelry pieces. Choose from a wide variety of charms and colors; recommended for ages 12+. ~ Monique Proulx
Animals Minipuzzle. Each 54 piece puzzle makes a 5" x 8" picture. The perfect stocking stuffer for everyone five and older. ~ Monique Proulx
Cate & Levi Sock Puppets ($25.99). Each puppet is uniquely made from reclaimed wool and stitched into a one of a kind treasure. A truly distinctive gift. ~ Monique Proulx
Ridley's Game Room Board Games ($7.99 to $26.99). These wonderful classic games are the perfect family gift. Each comes with full instructions and are packaged in geometric illusion boxes. Choose from Dominos, Chess/Checkers, Chinese Checkers and Backgammon. ~ Monique Proulx
Star Wars String Bling Yo-Yo ($15.99). Get your favorite Star Wars character in a high performance String Bling Yo-Yo along with matching ring. ~ Monique Proulx
CREATIVE FUN all ages

Kaleidoscopia! Book and Kit: Everything You Need to Know About Kaleidoscopes (Including How to Make Your Own!)
by Carolyn Bennett. Kaleidoscopia captures the wonders of the kaleidoscope and has it all: the history, science, even eco-friendly projects! A must for home and classroom setting. Full color and step-by-step instructions. ~
Jeanette Sessions
HOLIDAY!

Simon and the Bear: A Hanukkah Tale
by Eric A. Kimmel. As Simon sets sail for a new life in America his mother packs an extra gift, a small menorah, and reminds him to always celebrate the miracles of Hanukkah. Stunning illustrations illuminate this beautiful tale of courage, faith and the power of miracles! ~
Whitney Kaaz
The Dreidel That Wouldn't Spin: A Toyshop Tale of Hanukkah
by Martha Seif Simpson, illus. by Durga Yael Bernhard. This charming Hanukkah story reminds us that small miracles do happen for those who are unselfishly open to receive them. ~ Patti Vunk

The Christmas Treasure Hunt: A Lift the Flap Book
by Ag Jatkowska. Come join the animals in Green Oak Wood for an old fashioned Christmas! Adorable illustrations and lift the flap surprises accompany this sweet rhyming story. ~
Whitney Kaaz
MIDDLE READER ages 7-12

Rain Reign
by Ann Martin. Rose, a high functioning autistic 10 year-old, does her best to cope in a world that doesn't always make sense to her. Rose's voice subtly illustrates her extraordinary challenges. Enlightening, compassionate, with insights into the inner world of anyone who struggles as Rose does. ~
Jennifer Canfield

The Eye of Zoltar: Chronicles of Kazam #3
by Jasper Fforde. Need a tree moved or drain fixed? Call Kazam Mystical Arts. Manager Jennifer Strange, age 16, will send you a wizard. Magic isn't powerful, but it's growing. When the dragons are threatened again, she must find the Eye of Zoltar to save them. ~
Leah Moore

The Ice Dragon
by George R. R. Martin. An exquisite story about a girl and her ice dragon thrown into a great and terrible war. For readers interested in fantasy, violent-ish stories or dark fairy tales. A great read-aloud, though perhaps not before bed! Game of Thrones fans will adore the illustrations. ~
Aubrey Resifo

Cartwheeling in Thunderstorms
by Katherine Rundell. This coming-of-age story follows the journey of Wilhelmina Silver. If you like Pippi Longstocking, you will love the antics, originality and bravery of this young girl's journey from the wilds of Africa to the streets of London. ~ Sally Leonard

Half a World Away
by Cynthia Kadohata. Adopted at age eight, Jaden doesn't know why or how his parents love him – and now they're adopting a new baby. He has rages, starts fires in the house. Then he starts to see himself and the new baby differently. A moving, heartwarming story for teens and tweens. ~
Aubrey Restifo

The Book of Storms
by Ruth Hatfield. After a terrible storm, Danny's parents go missing. In a lightening-struck tree he finds a taro, heart of the storm, which grants the power to speak with animals and plants, but he has no idea of the dangers ahead. Great for Percy Jackson fans! ~
Leah Moore
(1/15 pub date - preorder yours!)
TODDLERS

Just Right for Two
by Tracey Corderoy, illus. by Rosalind Beardshaw. Dog has all that he needs - or does he? Charming art features cheerful round forms, bright colors and gold foil highlights on the cover, making it a special treat for the under-five crowd. A sweet story about friendship and sharing ~
Jennifer Armstrong

Sam and Dave Dig a Hole
by Mac Barnett & Jon Klassen. This dynamic award-winning duo is back and better than ever! Pay close attention as the boys dig for treasure. The words tell one story and the charming pictures another. Hilarious! ~
Whitney Kaaz

What's in My Truck?
by Linda Bleck. Travel through the pages of this colorful board book, lift the many flaps to peek inside all sorts of trucks to see what surprises are inside! ~ Patti Vunk
PICTURE BOOKS

Little Humans
by Brandon Stanton. It's tempting to yell "Hipster Alert!" but the pictures are too good, the intent too sympathetic. Stanton has sifted out the children from his popular Humans of New York blog: superheroes, fashionistas, lap-sitters and huggers of all colors. Text celebrates the potential in all humans, big and little. ~
Jennifer Armstrong

Red Knit Cap Girl and the Reading Tree
by Naoko Stoop. Red Knit Cap Girl and her forest friends turn a hollow tree into a library. Everyone donates books and blankets. Soon it becomes a place for the whole forest to enjoy. A story of friendship for book-lovers of all ages! ~
Leah Moore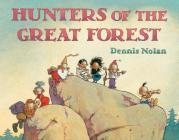 Hunters of the Great Forest
by Dennis Nolan. You'll relish this wordless picture book of little people on a big adventure, braving many dangers to bring home a great treasure. Youngsters can make up the story studying all the details in the illustrations, which play with scale and point of view to wonderful effect. ~
Jennifer Armstrong

A Letter for Leo
by Sergio Ruzzier. A gentle story about loneliness, friendship and the genuine pleasure of snail mail - tangible proof that someone we miss is thinking of us. Share this with a grandchild, then start exchanging real letters. Illustrated with a sweet, wistful palette that matches the tone of the story perfectly. ~
Jennifer Armstrong

The Farmer and the Clown
by Marla Frazee. This wordless story follows a surprising friendship between a farmer and a clown who has fallen off his circus train. Lovely pictures illustrate their brief adventure together, leading up to the day that "home" rolls back into town. Endearing and spot-on! ~
Aubrey Restifo

Once upon an Alphabet: Short Stories For all the Letters
by Oliver Jeffers. With a florescent orange jacket and enough quirk and charm to fill a volume this highly original collection is a refreshing take on the – alphabet! ~
Jessica Wood

Viva Frida
by Yuyi Morales, Tim O'Meara. This celebration of Frida Kahlo will take your breath away. The bilingual text is minimal but offers a glimpse of the creative spirit. The illustrations are a combination of puppets and paintings in such vivid colors that you will come back again and again. Joyful! ~
Jennifer Armstrong

The Mouse Mansion
by Karina Schaapman. Short vignettes featuring Sam and Julia and their adventures. This is no ordinary dollhouse; built to scale by the author with over 100 rooms, this is a world unto itself. ~
Jessica Wood

Wonderment
by Lisbeth Zwerger. Lisbeth Zwerger is a highly regarded illustrator who has garnered many awards including the coveted Hans Christian Anderson medal for lifetime achievement. This lovely collection showcases her unique style with wit and flair. ~
Jessica Wood