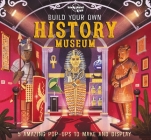 $18.99
ISBN: 9781788689410
Availability: Usually Ships in 1-5 Days
Published: Lonely Planet - April 21st, 2020
Calling all archaeologists!

A crate has arrived for you and it's packed with treasures from the ancient world! Can you assemble them and assign each to the right room in time for the museum's big opening? Among the treasures to display are an Egyptian sarcophagus, a Greek temple and a Chinese Terracotta Army.
---

$5.99
ISBN: 9780593093306
Availability: Click Title for IN STOCK Location
Published: Penguin Workshop - April 7th, 2020
Explore the most amazing wonders of the ancient world!

---
$17.99
ISBN: 9781328753649
Availability: Click Title for IN STOCK Location
Published: HMH Books for Young Readers - April 7th, 2020
Combining world culture, history, geography, and architecture, this visually stunning look at ancient cities around the globe takes readers to such places as the Hanging Gardens of Babylon, the cliff dwellings of Mesa Verde, and the mysterious sculptures of Angkor Wat.

---

$7.95

ISBN: 9780531134320

Availability: Usually Ships in 1-5 Days

Published: Children's Press - February 4th, 2020

A True Book: Queens and Princess tells the stories of women who were born or married into royalty. Who were these women who ruled nations and kingdoms and touched the lives of their people?

---

$6.99

ISBN: 9781465497352

Availability: Coming Soon - Available for Pre-Order Now

Published: DK Children - June 16th, 2020

Read all about the magnificent mummies of ancient Egypt!


---

$6.95

ISBN: 9780531243787

Availability: Usually Ships in 1-5 Days

Published: Children's Press - February 4th, 2020

Where is the missing city? What's hidden there and why? Find out all this and more!

---

$9.95

ISBN: 9780778774235

Availability: Usually Ships in 1-5 Days

Published: Crabtree Publishing Company - January 15th, 2020

Do you think you would have enjoyed living in ancient Egypt? It wasn't bad if you were a pharoah�but watch out if you were a slave This book is full of fascinating facts about Egyptian daily life, religion, royal life, and the afterlife.

---

$9.95

ISBN: 9780778774242

Availability: Usually Ships in 1-5 Days

Published: Crabtree Publishing Company - January 15th, 2020

Do you think you would have enjoyed living in ancient Greece? Daily life was ruled over by the gods�and they could be a mean bunch This book is full of fascinating facts about Greek daily life, religion, philosophy, and warfare.

---

$9.95

ISBN: 9780778774259

Availability: Usually Ships in 1-5 Days

Published: Crabtree Publishing Company - January 15th, 2020

Do you think you would have enjoyed living in ancient Rome? That depends�do you like taking a bath in public This book is full of fascinating facts about Roman daily life, religion, the school life of boys and girls, and health care.

---

$9.95

ISBN: 9780778774334

Availability: Usually Ships in 1-5 Days

Published: Crabtree Publishing Company - January 15th, 2020

Do you think you would have enjoyed living during the Viking age? Growing up Viking was not for the weak�even their pets were ferocious This book is full of fascinating facts about Viking daily life, religion, raiding and trading, and family life.

---