Selection of our Children Puzzles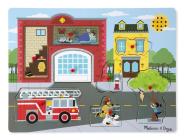 $12.99
ISBN: 0000772007368
Availability: Usually Ships in 1-5 Days
Published: Melissa & Doug - May 18th, 2016
---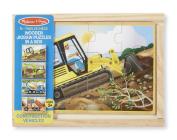 $11.99
ISBN: 0000772037921
Availability: Usually Ships in 1-5 Days
Published: Melissa & Doug - April 24th, 2007
---
This extra-thick wooden puzzle includes favorite machines from the construction site: a bulldozer, dump truck and cement mixer. Each piece has a jumbo wooden knob that is easy for toddlers to grasp. Full-color, matching pictures appear underneath each piece. A perfect puzzle for one-year-olds as they develop hand-eye coordination, fine motor skills, visual perception skills and beginning vocabulary!

Dimensions: 12"L x 12"W
Item #3395
---

$10.99
ISBN: 9780735349353
Availability: Click Title for IN STOCK Location
Published: Mudpuppy - January 16th, 2017
Put together a classic fire truck manned by furry friends with this 12-piece puzzle from Mudpuppy. The Fire Truck Pouch Puzzle features extra thick pieces perfect for small hands and is packaged in a secure, reusable pouch with ribbon edging and coordinating zipper for easy travel.
- 12 extra thick pieces
- Puzzle greyboard contains 90% recycled paper
---
$12.99
SKU: 4005556096411
Ravensburger has the perfect puzzle for your preschooler!
With a wide range of characters, images, and designs to choose from, we have something to challenge every young puzzler, ages four and up. Assemble 60 durable pieces to reveal the firefighters in action, battling a blaze from their bright red firetruck. With sturdy pieces that are easy to hold and manipulate, but strategically designed to offer a bit more of a challenge, little ones become puzzling pros. A completed Ravensburger 60 piece puzzle measures slightly larger than a piece of legal paper and features strategically selected imagery for a perfect unplugged challenge at home or on the go.
Puzzling is the perfect way to spend time together, build relationships and make memories that last a lifetime. Puzzling also develops fine-motor skills, hand-eye coordination, memory, focus, and concentration skills. Building confidence one piece at a time!
Ravensburger puzzles are designed to be a positive experience. Following with tradition, our puzzle dies are completely hand made from the grid design to the bending and forming of our steel tools; creating a perfect interlocking fit with no tearing or dust. No two pieces are ever the same shape! Extra-thick cardboard pieces mean your puzzle will last for years and our fine, linen-structured paper eliminates glare so you can really see the details. Ravensburger, bringing families together since 1891.
---
This fire truck-shaped puzzle is ready to go with only 24 cardboard pieces to complete assembly! Four feet long when assembled, the extra-thick cardboard pieces feature an Easy-Clean surface to keep them looking like new.

Dimensions: 48"L x 18"W Assembled
---
$14.99
SKU: 4005556109395
Ravensburger has a puzzle perfect for every child. With interesting imagery and strategic piece size, we have a variety of formats to guarantee success in every age range and ability level!

Ravensburger 100-300 piece Children's Puzzles are a fun way to train recognition, logical thinking, patience, and hand-eye coordination. Puzzle difficulty when chosen correctly, strengthens your child's self esteem and short term memory while having fun!

Since 1891 we've been making the world's finest puzzles in Ravensburg, Germany. Our attention to detail has made Ravensburger the world's greatest puzzle brand! We use an exclusively developed, extra-thick cardboard combined with our fine, linen-structured paper to create a glare-free puzzle image for a quality you can see and feel. Our steel cutting tools are designed and crafted by hand. This ensures that no two pieces are alike and guarantees a perfect interlocking fit. Enjoy Ravensburger quality with this family-friendly activity today!
---
$12.99
SKU: 4005556055135
Join Thomas and his friends as they travel around Sodor! This cute puzzle has 64pcs and many of them are the shapes of the characters!
Guaranteed hours of fun and identifying Thomas and his Friends!
---
$12.99
SKU: 0000772044219
With so many vehicles to identify, no one would mind sitting in this traffic jam! Bright, bold colors highlight everything from a fast train to a jet plane. 2' x 3' when complete, it features 24 extra-thick pieces with an Easy-Clean surface to keep them looking like new.
Item # 4421
---
$12.99
SKU: 0000772007290
"Whoo, whoo" says the old-fashioned steam engine when all nine puzzle pieces are placed in the board. Your child will "get on board" with matching and listening skills while doing this wooden puzzle with its matching picture under the pieces.

AAA batteries not included.

Dimensions: 8.5" x 11.75" x 1"
---