Selection of our Children Puzzles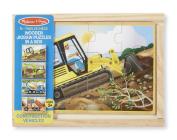 $11.99
ISBN: 0000772037921
Availability: Usually Ships in 1-5 Days
Published: Melissa & Doug - April 24th, 2007
---
Digging dirt, moving earth or just driving down the road, construction vehicles are captivating. This extra thick wooden puzzle includes six easy-grasp, chunky vehicle pieces. Each vehicle has a full-color, matching picture underneath and can stand upright for pretend play. Encourages hand-eye, fine motor and creative expression skills.

Dimensions: 1" x 9" x 12"
---
$12.99
SKU: 0000772007252
Place a vehicle puzzle piece correctly in the puzzle board and listen to it toot, beep or rumble! Eight great sounds and a full-color, matching picture beneath the eight wooden pieces.

AAA batteries not included.

Dimensions: 8
---
$12.99
SKU: 0000772904247
All aboard the Alphabet Train! The beautifully detailed blue engine is ready to roll with familiar objects from A to Z. Ten feet long when assembled, this sturdy, colorful puzzle will stay looking like new, thanks to its Easy-Clean surface and eXtra-thick pieces.

EXtension Activities: More Ways to Play and Learn:

Find all the letters in your name. Do any of them fit together?
Talk about the difference between vowels and consonants, and identify all the vowels.
Name all the animals on the puzzle. Can you think of another animal or object that starts with each letter?

Dimensions: 120L X 5.75W Assembled

Recommended Ages: 3+ years
---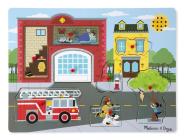 $12.99
ISBN: 0000772007368
Availability: Usually Ships in 1-5 Days
Published: Melissa & Doug - May 18th, 2016
---
$12.99
SKU: 0000772007399
The wheels on the bus go 'round and 'roun... and kids will play with this puzzle over and over! Lift the six pieces of the school bus to reveal different pictures underneath that show what's happening, and to hear the different verses of the classic children's song. Sing along as the wipers go, "swish, swish, swish," the horn goes, "beep, beep, beep," and more! The lyrics are on the back of the sturdy wooden resting board to help kids learn the words. Shaped wooden pieces with durable plastic pegs are easy for small hands to grasp, making this a perfect preschool puzzle (ages 2+) that helps with fine motor skill development, as well as auditory processing.
Item # 739
AAA batteries not included.
---
$16.99
SKU: 4005556054541
This shaped floor puzzle features two racing legends - Lightning McQueen and Jackson Storm! Kids will love to put this puzzle together over and over again. Big sturdy pieces help little hands succeed!
---
$15.99
SKU: 0679952424020
Our Fire Truck puzzle has 12 large interlocking pieces cut from 1/8" hardwood plywood. Each puzzle measures about 11" high and 12" long. Brightly colored and detailed designs are printed right on the wood so the images don't scratch off with lots and lots of play. Each puzzle comes shrink wrapped with a drawstring pouch for easy storage.

SKU 42402
Ages 3 and up
Finish lacquer, ink
---

$9.99
ISBN: 9780735348028
Availability: Click Title for IN STOCK Location
Published: Mudpuppy - June 14th, 2016
Puzzling on the move has never been easier with Mudpuppy's Goodnight, Goodnight, Construction Site Puzzle to Go. Packaged in a travel-friendly drawstring bag, this puzzle features your favorite excavator!
- 36 pieces, 12 x 9" when complete
- Ages 3+
- Silkscreened fabric bag package with drawstring, 6.5 x 7.5"
- Postcard with puzzle art included inside
---

$9.99
ISBN: 9780735345997
Availability: Special Order
Published: Mudpuppy - January 19th, 2016
Puzzling on the move has never been easier with Mudpuppy's Airplane Puzzle To Go. Packaged in a travel-friendly drawstring pouch, this puzzle features a vibrant airplane illustration and fits perfectly on an airplane tray! - 36 pieces, 12 x 9"
- Ages 3+
- Silkscreened muslin bag package with drawstring, 6 1/2 x 7 1/2"
- Postcard with puzzle art included inside

---

$11.99
ISBN: 9780735351905
Availability: Special Order
Published: Mudpuppy - June 20th, 2017
Children will love the shiny foil embellished illustration of a busy construction site on the Construction Foil Puzzle from Mudpuppy. This 100 piece puzzle comes in a sturdy box that is also embellished with foil! This puzzle is a perfect gift for children ages 5 and up.
- 100 piece puzzle
- 18 x 12" when complete
- Ages 5+
---