Selection of our Children Puzzles

$12.99
ISBN: 0000772029230
Availability: Usually Ships in 1-5 Days
Published: Melissa & Doug - March 13th, 2013
---
$18.99
SKU: 0732396418526
Crocodile CreekG++-¦+++s new Early Learning Series teaches toddlers all about colors, shapes, counting and seasons. When finished the puzzle is 18" x 24"! Puzzle pieces are made of strong, high-quality board that will not tear or break. 24 sturdy big pieces are easy for little fingers to put together and take apart. Printed with soy-based inks. Encourages hand-eye coordination, fine motor skills and problem solving. Can you find activity included for child and adult interaction. Inside cover includes a guide to learn shapes, colors and numbers
---
There's something about kids and constructions sites! Excitement abounds as an excavator; backhoe, and dump truck go to work digging, scooping and pushing dirt. The scene comes together when the 24 pieces of this wooden jigsaw puzzle are assembled in the sturdy tray, perfectly designed for easy storage.


Dimensions: 15.75"L x 11.75"W
---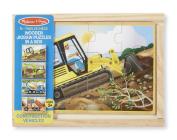 $11.99
ISBN: 0000772037921
Availability: Usually Ships in 1-5 Days
Published: Melissa & Doug - April 24th, 2007
---
$24.95
SKU: 0630227524951
Description

Ages 6 to 66,-++-+¡includes a set of 40 NEW challenges.

An intriguing new release that adds orange barriers which limit your choices but require enfolded solutions.
Introducing an enticing new twist on Cool Circuits . . .

Cool Circuits really does live up to its name.

COOL!

Lay down a puzzle card, add on the bright orange barriers, solve the challenge by making a loop, and watch the board light up!
Cool Circuits Junior has 40 different challenges ranging from student to expert. Can you solve them all?
Comes with light up board, 6 barriers, 8 fluorescent, 3-D puzzle pieces and 40 challenge cards.
This puzzle emphasizes spatial reasoning and abstract thinking.
---
$13.99
SKU: 4005556086337
There's just so much to see and do with this 35-piece puzzle from Ravensburger! Assemble the pieces to reveal Curious George exploring the park with The Many in the Yellow Hat and other familiar friends, including a hutch full of bouncing bunnies!
---
A dramatic prehistoric scene comes to life when the wooden jigsaw pieces are assembled! Brightly illustrated with dinosaur details, this 24-piece puzzle comes packaged in a sturdy wooden tray for puzzle-building and easy storage.

Item # 9066
Product: 15.75"L x 11.75"W Packaged 1.45 lbs
Package: 15.7" H x 11.7" W x 0.4" L
---
Emperor Penguin Mini Puzzle from Mudpuppy is a small size puzzle featuring a realistic image of an Emperor Penguin in its natural habitat. The 48 piece finished puzzle measures 8 x 5.75" so it's perfect for train or airline tray tables. A two-sided insert includes an image of the puzzle on one side and fun facts about the Emperor Penguin on the other!
-48 piece puzzle: 8 x 5.75"
-Box: 4.5 x 3.25 x 1.25"
-Includes insert with puzzle image and fun facts!
-Puzzle greyboard contains 90% recycled paper. Packaging contains 70% recycled paper. Printed with nontoxic inks.
-Ages 4+
---
Have fun on the farm with this extra-thick wooden puzzle. It includes seven easy-grasp, chunky farm animals and a barn. Each piece has a full-color, matching picture underneath. The barn and animal pieces stand upright for pretend play. Encourages hand
---
$12.99
SKU: 0000772007269
Each happy farm animal "sounds off" in its own voice when its animal puzzle piece is placed correctly in this eight-piece wooden peg puzzle! Your child will enjoy hearing all eight sounds and looking at the full-color, matching pictures under the pieces, while developing matching and listening skills with this captivating multisensory puzzle.

AAA batteries not included.

Dimensions: 8.75" x 11.75" x 1"
---
$12.99
SKU: 0000772007757
Six puzzles in one! There are 16 solid wooden cubes in this unique puzzle. Rotate the cubes in the included wooden tray to complete colorful pictures of six different farm animals. (The border design provides a helpful hint!)

Dimensions: 8" x 8" x 2.25"
---