$6.99
ISBN: 9781984847669
Availability: Click Title for IN STOCK Location
Published: Random House Books for Young Readers - July 23rd, 2019
Celebrate Halloween and Thanksgiving with two classic Berenstain Bears stories in one book!

---

$4.99
ISBN: 9781534450721
Availability: Coming Soon - Available for Pre-Order Now
Published: Simon Spotlight - August 27th, 2019
Guess who's back in this shaped 8x8 based on Boss Baby: Back in Business, the hit series currently streaming on Netflix!

Everyone's favorite boss is back!
---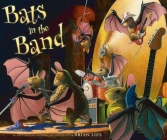 $7.99
ISBN: 9780358117919
Availability: Coming Soon - Available for Pre-Order Now
Published: HMH Books for Young Readers - September 10th, 2019
In this symphonious companion to Brian Lies's best-selling Bat Book series, strike up the band, celebrate, and share music!

---

$3.99

ISBN: 9780062654694

Availability: Coming Soon - Available for Pre-Order Now

Published: HarperCollins - September 3rd, 2019

The Berenstain Bears practice their manners!

Sometimes you get up on the wrong side of the bed. But the cubs learn that is no excuse to be rude!

Good thing Mama Bear is here to set the Bear family straight. And with a little laughter, everyone can find a way to all get along.

---

$4.99

ISBN: 9780358168775

Availability: Coming Soon - Available for Pre-Order Now

Published: HMH Books for Young Readers - September 24th, 2019

George and the man with the yellow hat join a school field trip to the firehouse where George finds all sorts of new things to explore. There are helmets, uniforms, and even a big red fire truck! This curious monkey meets a company of unsuspecting firefighters, and when the fire alarm goes off, the firefighters are off to the rescue.

---

$4.99

ISBN: 9780358157229

Availability: Coming Soon - Available for Pre-Order Now

Published: HMH Books for Young Readers - September 24th, 2019

When George and the man with the yellow hat visit the animal shelter, George is delighted to discover a large litter of puppies. At first, George just wants to pet the puppy, but then he wants to hold one. George's curiosity gets the best of him, and soon puppies are everywhere. Includes bonus activities, stickers, and downloadable audio.

---

$4.99

ISBN: 9781338530681

Availability: Click Title for IN STOCK Location

Published: Scholastic Inc. - June 25th, 2019

Clifford the Big Red Dog is going to school!
Clifford misses his best friend Emily Elizabeth every day when she goes to school. He wishes he could go with her. . . But Emily Elizabeth has a better idea-she will make Clifford his own big red school!


---

$7.99

ISBN: 9781534452091

Availability: Click Title for IN STOCK Location

Published: Simon & Schuster Books for Young Readers - June 11th, 2019

In the spirit of Someday and Guess How Much I Love You comes a lyrical and endearing picture book about the people in our lives who are always there to look out for us.

Who will keep the boy safe?
"I will," said his mother.

---

$4.99

ISBN: 9781419735097

Availability: Click Title for IN STOCK Location

Published: Harry N. Abrams - July 2nd, 2019

---

$7.99

ISBN: 9780593118962

Availability: Click Title for IN STOCK Location

Published: Dragonfly Books - June 25th, 2019

Celebrate girl power with this charming and empowering picture book about a pink hat and the budding feminist who finds it.

"This simple and cheerful tale suggests, with not an ounce of preachiness, values of care and comfort and the support women have for each other across generations." --The Washington Post


---

$7.99

ISBN: 9781328603685

Availability: Click Title for IN STOCK Location

Published: HMH Books for Young Readers - July 9th, 2019

In this newest paperback from the bestselling Sheep in a Jeep series, five restless sheep can't get to sleep until a helpful collie comes to their rescue.

---

$7.99

ISBN: 9781534452275

Availability: Click Title for IN STOCK Location

Published: Atheneum/Caitlyn Dlouhy Books - June 11th, 2019

From beloved duo Elise Broach and David Small comes an adorable picture book about a little boy who gets a free dino with purchase!

Free gift with purchase: Dinosaurs!
Wait—free what?!

Just when a little boy thinks he's going to die of boredom from running errands with his mom, the most remarkable, the most stupendous thing happens.

---