$14.99
ISBN: 9781452179827
Availability: Coming Soon - Available for Pre-Order Now
Published: Chronicle Books - March 3rd, 2020
From the bestselling creators of Happiness Is comes a celebration of the many delightful, triumphant, silly, sweet, life-changing experiences that lie ahead.

A world full of wonder is waiting for you . . . the sky is the limit of what you can do!

---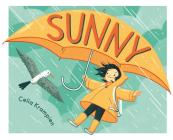 $17.99
ISBN: 9781250316608
Availability: Coming Soon - Available for Pre-Order Now
Published: Roaring Brook Press - February 11th, 2020
From debut author/artist Celia Krampien comes an unforgettable, transcendent story about the true power of optimism with this gorgeously illustrated picture book, Sunny.

Most people would say there is nothing good about trudging to school on a rainy day.
---

$17.99
ISBN: 9780358153931
Availability: Coming Soon - Available for Pre-Order Now
Published: HMH Books for Young Readers - March 3rd, 2020
From Ezra Jack Keats Honor winner E. B. Goodale comes a celebration of nature, family, and building our own hands-on adventures—perfect for any reader who has ever craved a bit of independence . . .

In this lush and playful picture book from E. B.

---

$17.99

ISBN: 9781984892805

Availability: Coming Soon - Available for Pre-Order Now

Published: Schwartz & Wade - February 18th, 2020

In this charming and powerful picture book about voting and elections, the students of Stanton Elementary School learn how we can find--and use--our voices for change.


---

$17.99

ISBN: 9781250203557

Availability: Coming Soon - Available for Pre-Order Now

Published: Roaring Brook Press - March 17th, 2020

Inspired by the many Indigenous-led movements across North America, We Are Water Protectors issues an urgent rallying cry to safeguard the Earth's water from harm and corruption—a bold and lyrical picture book written by Carole Lindstrom and vibrantly illustrated by Michaela Goade.

Water is the first medicine.
It affects and connects us all . . .

---

$19.99

ISBN: 9781419725760

Availability: Coming Soon - Available for Pre-Order Now

Published: Abrams Books for Young Readers - February 25th, 2020

A picture book that celebrates community and creativity from acclaimed cut-paper artist Nikki McClure

This lyrical picture book from beloved creator Nikki McClure follows a family through one day and muses in the possibilities that one day holds—from enjoying treats at the bakery, to admiring handmade goods from local artisan shops, to observing the new constru

---

$17.95

ISBN: 9781760360894

Availability: Click Title for IN STOCK Location

Published: Starfish Bay Publishing - November 1st, 2019

Melvin's relatives are traveling from all over to attend the Mice Festival at his home! It's an exciting event for the mice, with much fun and celebration to be had. Gifts are exchanged and games are played, but Uncle Dom still hasn't arrived.

---

$16.99

ISBN: 9781250127129

Availability: Click Title for IN STOCK Location

Published: Henry Holt and Co. (BYR) - November 5th, 2019

When the Snow Is Deeper Than My Boots Are Tall is a charming rhyming picture book celebrating the fun of snow and the coziness of winter.

Find a frosty window./ Watch the flakes fall./ Look! The snow is deeper than my toes are tall.

---

$16.95

ISBN: 9781454930136

Availability: Click Title for IN STOCK Location

Published: Sterling Children's Books - January 7th, 2020

"We look at the world every day.
You and me.
Do we see the same things?
Do you see what I see?"

In beautiful, evocative rhyme, this lovely picture book helps children consider the colors of their everyday lives . . . and imagine how others around the world experience the very same things.


---

$16.95

ISBN: 9781454923572

Availability: Click Title for IN STOCK Location

Published: Sterling Children's Books - January 7th, 2020

What happens when a brother and sister who share a love as big as the sky must separate? This heartwarming story set in an African village shows that with a little generosity, there's always a way to come together.


---

$17.99

ISBN: 9781984847973

Availability: Click Title for IN STOCK Location

Published: Doubleday Books for Young Readers - November 5th, 2019

The differences between cats and dogs have never been funnier! In this hilarious new story from the illustrator of I Don't Want to Be a Frog, a little girl really, really wants a dog . . . but gets a cat instead!


---

$17.99

ISBN: 9781576879344

Availability: Click Title for IN STOCK Location

Published: POW! - November 12th, 2019

The Climbing Tree is an eloquent, poetic fable with a timeless message about growing up, sibling rivalry, and the love between brothers.


---