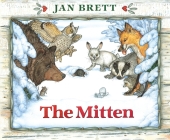 $17.99
ISBN: 9780399252969
Availability: Click Title for IN STOCK Location
Published: G.P. Putnam's Sons Books for Young Readers - October 5th, 2009
A bestselling modern classic that has been a family favorite for over 25 years.

When Nicki drops his white mitten in the snow, he goes on without realizing that it is missing.

---

$17.99
ISBN: 9780735264045
Availability: Click Title for IN STOCK Location
Published: Tundra Books - September 24th, 2019
King Mouse finds his authority in question when his subjects find crowns of their own. A gentle and humorous modern fable about imaginative play and kindness in the tradition of classics like Little Bear and Frog and Toad.

---

$16.99
ISBN: 9781484780589
Availability: Usually Ships in 1-5 Days
Published: Little, Brown Books for Young Readers - April 9th, 2019
When Lawrence Fox's teacher announces that students will be presenting their collections at show-and-tell, Lawrence realizes he doesn't have anything to share.

---

$8.99

ISBN: 9780062747211

Availability: Click Title for IN STOCK Location

Published: Greenwillow Books - October 29th, 2019

From Caldecott Medalist and Newbery Honor author Kevin Henkes and acclaimed painter Laura Dronzek, the bestselling and award-winning creators of When Spring Comes and In the Middle of Fall, this picture book about winter celebrates the sights, sounds, and smells of the season.

This board book edition with sturdy pages is perfect for little hands.

---

$18.99

ISBN: 9780062866004

Availability: Click Title for IN STOCK Location

Published: HarperCollins - February 12th, 2019

A #1 New York Times bestseller!

An Amazon Best Books of the Year 2019 selection!

From the bestselling creators of The Bad Seed, a timely story about not having to be Grade A perfect!

Meet the good egg. He's a verrrrrry good egg indeed.

---

$17.99

ISBN: 9781534425361

Availability: Click Title for IN STOCK Location

Published: Simon & Schuster Books for Young Readers - October 15th, 2019

A New York Times bestseller!
Recipient of a Coretta Scott King Illustrator Honor Award
Recipient of an NAACP Image Award for Outstanding Children's Literary Work

From Academy Award–winning actress Lupita Nyong'o comes a powerful, moving picture book about colorism, self-esteem, and learning that true beauty comes from within.


---

$16.95

ISBN: 9780060255008

Availability: Click Title for IN STOCK Location

Published: HarperCollins -

From Maurice Sendak, the Caldecott Medal-winning genius who created Where the Wild Things Are, comes Nutshell Library, which will enchant readers with four classic titles.

---

$19.95

ISBN: 9780060254926

Availability: Click Title for IN STOCK Location

Published: HarperCollins - December 26th, 2012

Where the Wild Things Are is fifty years old! Maurice Sendak's Caldecott Medal-winning picture book has become one of the most highly acclaimed and best-loved children's books of all time. A must for every child's bookshelf.

---

$17.99

ISBN: 9780399186660

Availability: Click Title for IN STOCK Location

Published: Dial Books - November 26th, 2019

In this delightfully different alphabet book from the creator of Extraordinary Jane, a curious bear makes a new friend.


---

$14.99

ISBN: 9781419737268

Availability: Click Title for IN STOCK Location

Published: Abrams Books for Young Readers - September 17th, 2019

The instant New York Times bestseller!

Susan Verde and Peter H. Reynolds continue their collaboration with the fourth book in their bestselling wellness series. A celebration of love in all its forms, I Am Love asks readers to look inward when they feel afraid.

---

$9.95

ISBN: 9780863156472

Availability: Click Title for IN STOCK Location

Published: Floris Books - Floris Books - September 15th, 2008

Six-year-old Ollie is given his first pair of real skis. As soon as the snow begins to fall he heads off into the woods and meets sparkling Jack Frost, who shoos away damp Mrs Thaw.

Jack Frost takes him on an adventure to the palace of King Winter. Ollie has a wonderful time in a huge snowball fight But will Mrs Thaw return too soon for Ollie to enjoy the snow?

---

$17.99

ISBN: 9781481476270

Availability: Usually Ships in 1-5 Days

Published: Simon & Schuster Books for Young Readers - June 5th, 2018

A girl, a potato, and a very sad flamingo star in this charming sequel to I'm Bored by New York Times bestselling author and comedian Michael Ian Black and celebrated illustrator Debbie Ridpath Ohi.

Everyone feels sad sometimes—even flamingos.

Sigh.

---