Submitted by
usedbooks@north...
on Thu, 04/04/2013 - 4:51pm
I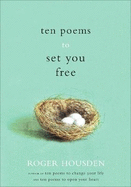 t's National Poetry Month!  The used books sections is never one to be left out, so we've created a display of used poetry books.  It's a lovely display.  Some might even call it poetic in and of itself.
If you're a Roger Housden fan, this is the month for you.  We've got copies of Ten Poems to Open Your Heart, Ten Poems to Set You Free, and Ten Poems to Last You a Lifetime. All are $5 hardcovers and, as always, in marvelous shape.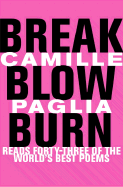 Another interesting find on our shelves is the hot pink book of Break, Blow, Burn: Camille Paglia reads forty-three of the world's best poems.  Paglia looks at Western classic and modern poetry to bring new insight and appreciation to the works.  $6 is a bargain for a book that will bring such color and liveliness to your shelves.
Don't think that our poetry is limited to this display.  We've got two full shelves packed with other interesting poetry finds, right next to the new copies on the fiction level.  There's a wide range of poetry from ancient to modern, so we're bound to have something for everyone.