$15.99
ISBN: 9781593592752
Availability: Usually Ships in 1-5 Days
Published: Peter Pauper Press - August 1st, 2009
---
$15.99
SKU: 9781441324252
This elegant memorial guest book is filled with simple lined pages.

Guest book provides plenty of space for guests to share their memories of loved ones and express condolences.
Makes an irreplaceable keepsake.
Soft willow-green guestbook with gold foil accents and matching satin ribbon bookmark.
Cover material made in Italy.
The words ''In Loving Memory'' are embossed in gold foil on the front cover.
Lightly lined pages provide plenty of space for guests' comments, as well as names and addresses.
Acid-free archival paper helps preserve memories and takes pen beautifully.
Bookbound-style hardcover.
Complementary endpapers.
96 pages.
Measures 9 inches wide by 6 inches high.
Guest book comes in a protective polybag.
---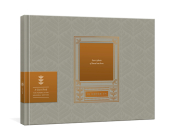 $16.00
ISBN: 9781984822666
Availability: Click Title for IN STOCK Location
Published: Clarkson Potter - November 6th, 2018
Celebrate a life well-lived with this guest book dedicated to remembering a lost loved one with hopeful quotes and plenty of space to write memories and anecdotes.

---
$12.99
SKU: 0739744144854
Treasure your most memorable moments with a LANG Heart and Home Guest Book. This favorite Susan Winget design is warm and welcoming accompanied by lovely artwork. Your guests will love it! This full-color Heart and Home Guest Book is suitable for any occasion and includes 40 lined pages for plenty of signatures!

40 Lined Pages
Book Bound
9.25" x 6.875"
---

$14.99
ISBN: 9781631061936
Availability: Usually Ships in 1-5 Days
Published: Rock Point - March 15th, 2016
Use this beautiful, nature-themed guest book to preserve memories of your special event or special visitors.

It's a day to remember with this attractive guest book featuring beautiful nature-themed illustrations by Mia Charro as spot art throughout.

With ''Guests'' lettered beautifully on the front cover, its pages offer a genero

---

$19.99

ISBN: 9781787131828

Availability: Click Title for IN STOCK Location

Published: Quadrille Publishing - February 19th, 2019

Inspired by original fabric and wallpaper detail at Brodsworth Hall and Gardens, a Victorian country house in South Yorkshire, this hardback guest book has a foiled cover and contains a ribbon marker and 96 deluxe cream colored, lined pages to provide plenty of space for recording guests' names, addresses, comments or memories.

---

$19.99

ISBN: 9780735355941

Availability: Usually Ships in 1-5 Days

Published: Galison - May 29th, 2018

The lush floral art of Ashley Woodson Bailey makes a beautiful addition to your coffee table or entryway so guests can write notes when they visit. This guest book from Galison captures the memories with friends and family at your home. Perfect for parties and events such as weddings and showers.
- Size: 10.25 x 7.25 x .5"
- Harcover, Foil stamped detail
- 64 sheets, 128 pages

---

$19.99

ISBN: 9780735360259

Availability: Click Title for IN STOCK Location

Published: Galison - June 4th, 2019

Guest books capture memories with friends and family at your home. The Frank Lloyd Wright The House Beautiful Guest Book from Galison makes a beautiful addition to your coffee table or entryway so guests can write personalized notes when they visit. Perfect for parties and celebratory events such as weddings and showers.

---

$19.99

ISBN: 9780735359604

Availability: Click Title for IN STOCK Location

Published: Galison - June 4th, 2019

Guest books capture memories with friends and family at your home. The William Morris Celandine Guest Book from Galison features the delicate floral pattern and makes a beautiful addition to your coffee table or entryway so guests can write personalized notes when they visit. Perfect for parties and celebratory events such as weddings and showers.

---

$44.00

ISBN: 9780735357945

Availability: Special Order

Published: Christian Lacroix - March 19th, 2019

---

$19.99

ISBN: 9781441323361

Availability: Click Title for IN STOCK Location

Published: Peter Pauper Press - January 1st, 2017

---

$19.99

ISBN: 9781787132382

Availability: Click Title for IN STOCK Location

Published: Quadrille Publishing - March 19th, 2019

Keep track of all of your guests at any event with this hardback 96-page guest book with unlined pages, soft touch matte lamination and foil on the cover, ribbon marker and FSC paper. The cover features puffins in flight. Their short wings are adapted for swimming with a flying technique under water.

---