$14.00

ISBN: 0810073341326
Availability: Click Title for IN STORE Location
Published: Ridleys - March 15th, 2022
---

$28.00

ISBN: 0810073340848
Availability: Click Title for IN STORE Location
Published: Games Room - March 15th, 2022
---
$10.99
SKU: 0759751011123
Availability: On Our Shelves Now
Think Fast. Say It First!

Quick –  name something fun to play beginning with the letter S! Slide whistle? Slot machine? How about Splurt - the hilarious fast-reaction word game! Flip a card     and be the first to shout out an answer that matches the clues. Can you name an animal containing 5 letters? A song ending in E? Think fast – say it first – win Splurt!
---
$10.99
SKU: 0759751011017
Availability: On Our Shelves Now
Can you name a movie with 2 sequels? How about a music group with 3 members? Test your numbers know-all in this fast-playing "name it to claim it" party game. Draw a category card and then fill in the blank with the number you rolled. Be the first person to name something that fits and you're smarter than the average Joe!

Ages 12 and up
2 or more players
Playing time: About 15 minutes
---
$14.99
SKU: 0021853017038
Availability: On Our Shelves Now
The head-to-head game where players try to be the first to get four of their color disks in a row. A great strategy game for any age. For 2 players, ages 6 and up.

Game Contents:

Game Console with base
23 Red Disks, 23 Yellow Disks
Complete Instructions
---
$22.99
SKU: 0759751003173
Availability: On Our Shelves Now
Dare to discover Forbidden Island! Join a team of fearless adventurers on a do-or-die mission to capture four sacred treasures from the ruins of this perilous paradise. Your team will have to work together and make some pulse-pounding maneuvers, as the island will sink beneath every step! Race to collect the treasures and make a triumphant escape before you are swallowed into the watery abyss!
---
$22.99
SKU: 021853004007
Availability: On Our Shelves Now
The international favorite! Create runs and sets of numbers in this classic, all-family game!

For 2 to 4 players, ages 8 to adult.

Contents: 106 plastic tiles, 4 racks, rules.
---
$29.95
SKU: 0854382007993
Availability: On Our Shelves Now
Time is broken and shattered. The seasons all exist at once, and day and night have no real cycle they rotate at the whim of the forest. This enchanted land has been driven into chaos and its up to you, the cunning mystics of the forest, to tame extraordinary woodland creatures and use your magic to bring back balance. In Brew, players must choose how to use element dice, either to take back control of as many seasons as possible in an area-control game or to procure goods at the local village in a worker-placement game. Recruiting woodland creatures and brewing potions can help offset chance die-rolls or create an engine to help you tame the lands.
---

$20.00

ISBN: 9780593233276
Availability: Click Title for IN STORE Location
Published: Clarkson Potter - November 2nd, 2021
Elevate your next gathering with this beautiful, helpful card deck that offers 50 creative ideas for styling and presenting food platters for any occasion--no cooking skills required!

---
$7.95
SKU: 0714043012356
Availability: On Our Shelves Now
Scrabble Slam is the best-selling, fast-paced and easy to play card game version of Scrabble. Start with any 4-letter word on the table like "CAKE" and yell out "Ready, Set, Slam!" and the race is on. Quickly change the existing word, 1 letter card at a time, to create a new word like "BAKE" then change it to "BIKE" and so on. The first player to play out all their cards wins! 

Contents: Deck of 55 Letter Cards and Illustrated Instructions.
---
$12.99
SKU: 0759751002008
Availability: On Our Shelves Now
Slamwich teaches reading readiness skills, like visual discrimination and sequencing. While kids are flipping and stacking cards, they're actually learning how to recognize a series, make combinations, and anticipate what might happen.

Fli
---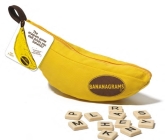 $18.19

ISBN: 0856739001159
Availability: Click Title for IN STORE Location
Published: Bananagrams - February 5th, 2018
---