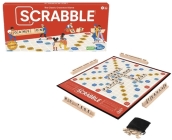 $32.99

ISBN: 0195166164878
Availability: Click Title for IN STORE Location
Published: Hasbro - June 12th, 2023
---
$14.99
SKU: 0736396001009
Availability: On Our Shelves Now
SET is a highly addictive, original game of visual perception; a fascinating challenge for either solitaire or competitive play. To create a SET, a player must locate three cards in which each of the four features is either all the same on each card or all different on each card, when looked at individually. The four features are, symbol (oval, squiggle or diamond), color (red, purple or green), number (one, two or three) or shading (solid, striped or open). Age is no advantage in this fast paced family game.SET is great fun for the whole family because there is no previous knowledge required.

Ages 6 & Up, 1-20 players, Takes 20-45 minutes to play.
---
$12.99
SKU: 0803979004112
Availability: On Our Shelves Now
AGES 7 TO ADULT - 2-8 PLAYERS

Spot it! is truly amazing. There is always one, and only one, matching symbol between any two cards! A sharp eye and quick reflexes is all it takes to play the 5 quick party game
---
$9.95
SKU: 0714043012462
Availability: On Our Shelves Now
Remember all the fun with this classic version of Barrel of Monkeys! The 15 monkeys have the look and feel you remember and come in the classic yellow barrel. Steady your hand and try to build the longest chain of monkeys. But, if you drop a monkey, you lose your turn! The player who makes the longest chain wins this classic game!

Ages:3 and up
Players:1 or more
Contents:15 Red Classic Plastic Monkeys, 1 Yellow Monkey Barrel (to store monkeys).
---
$15.99
SKU: 0802221537200
Availability: On Our Shelves Now
Be the first to get rid of all your cards, but watch out. If you roll a Deer in the Headlights your progress stalls. Specially designed with 2 decks of custom cards and 3 wooden game dice. All packed in matchbox decorative box for two or more players
---
$16.99
SKU: 0714043050273
Availability: On Our Shelves Now
The world's most famous puzzle is the still the best selling puzzle of all time! And now - it is made from molded plastic so there are NO MORE STICKERS! No stickers means no cheating! Includes collectable stand.
---

$19.99

ISBN: 9781399602112
Availability: Click Title for IN STORE Location
Published: Laurence King Publishing - September 26th, 2023
BASED IN THE FASCINATING SCIENCE OF PERSONALITY, so you can unlock a unique reading

PLAY ALONE OR WITH FRIENDS as you get to know yourself and others in a whole new light

WRITTEN BY AN EXPERT in behavourial sciene, Dr Sanna Balsari-Palsule PhD


How do we define our personalities? Can they change over time? And what even is a personality anyway?
---
$34.99
SKU: 0824968201251
Availability: On Our Shelves Now
DAYS OF WONDER
Players of all ages can now venture across America by train in Alan R. Moons Ticket to Ride: First Journey. With a brand new map and simplified rules, First Journey is the perfect way to introduce new players to the game of cross-country travel. Just like in Ticket to Ride, players collect train cards, claim routes, and try to connect cities coast-to-coast. In First Journey, though, routes are shorter, train cards are drawn straight from the deck, and the game ends when one player completes six tickets, claiming the Golden Ticket as their prize. Climb aboard, travelers, your incredible First Journey awaits!
---
$34.99
SKU: 0029877030255
Availability: On Our Shelves Now
CATAN Junior is for families with children ages 6-9. Simplified building rules, child-oriented trading, and a more innocuous robber equivalent called the "Ghost Captain" provide access to the world of CATAN games.
---

$14.95

ISBN: 0814743013155
Availability: Click Title for IN STORE Location
Published: Thames & Kosmos - November 30th, 2017
---