$4.99
ISBN: 9780736440202
Availability: Click Title for IN STOCK Location
Published: Golden/Disney - October 4th, 2019
This Little Golden Book is based on the box office hit Disney Frozen 2--now streaming on Disney+!

---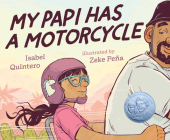 $17.99
ISBN: 9780525553410
Availability: Click Title for IN STOCK Location
Published: Kokila - May 14th, 2019
A celebration of the love between a father and daughter, and of a vibrant immigrant neighborhood, by an award-winning author and illustrator duo.

When Daisy Ramona zooms around her neighborhood with her papi on his motorcycle, she sees the people and places she's always known. She also sees a community that is rapidly changing around her.

---

$7.99
ISBN: 9781338600834
Availability: Click Title for IN STOCK Location
Published: Scholastic Inc. - November 5th, 2019
The Wonky Donkey has a daughter in this hilarious sequel to the runaway hit!
Wonky Donkey had a child,
it was a little girl.
Hee Haw!


---

$16.99

ISBN: 9781101938096

Availability: Click Title for IN STOCK Location

Published: Wendy Lamb Books - April 7th, 2020

EIGHT STARRED REVIEWS! The reassuring book kids and families need right now.

"An absolute original . . . a story that kids will love." --R. J. Palacio, bestselling author of Wonder


---

$7.99

ISBN: 9780545952781

Availability: Click Title for IN STOCK Location

Published: Arthur A. Levine Books - June 25th, 2019

A Coretta Scott King Author Honor and Boston Globe / Horn Book Honor winner!

"Powerful.... Johnson writes about the long shadows of the past with such ambition that any reader with a taste for mystery will appreciate the puzzle Candice and Brandon must solve." -- The New York Times Book Review


---

$7.99

ISBN: 9781481450225

Availability: Click Title for IN STOCK Location

Published: Atheneum/Caitlyn Dlouhy Books - March 26th, 2019

Sunny tries to shine despite his troubled past in this third novel in the critically acclaimed Track series from National Book Award finalist Jason Reynolds.

Ghost. Patina. Sunny. Lu. Four kids from wildly different backgrounds, with personalities that are explosive when they clash.

---

$7.99

ISBN: 9780316735780

Availability: Usually Ships in 1-5 Days

Published: LB Kids - April 1st, 2010

This companion book to Boy of Mine shows a dazzling little girl enjoying playtime in the moon's soft glow. As daddy cradles his baby girl, she is suddenly whisked away on a fantastical adventure, swinging above lush floral gardens under the golden moonlight.

---

$7.99

ISBN: 9781250071811

Availability: Click Title for IN STOCK Location

Published: Feiwel & Friends - June 9th, 2015

#1 New York Times bestseller!

Your baby's first word will be . . .

"Dada!"

Right?

Everyone knows that fathers wage a secret campaign to ensure that their babies' first word is "Dada!"

But how does it work?

One of the most popular entertainers in the world and NBC's The Tonight Show host, Jimmy Fallon, shows you how.

---

$7.99

ISBN: 9780064401845

Availability: Click Title for IN STOCK Location

Published: HarperCollins - May 2nd, 2017

The 40th anniversary edition of the classic Newbery Medal-winning title by beloved author Katherine Paterson, with brand-new bonus materials including an author's note by Katherine herself and a foreword by New York Times bestselling author Kate DiCamillo. This middle grade novel is an excellent choice for tween readers in grades 5 to

---

$9.99

ISBN: 9780316201551

Availability: Click Title for IN STOCK Location

Published: Little, Brown Books for Young Readers - June 3rd, 2014

After decades of hiding, the evil Enchantress who cursed Sleeping Beauty is back with a vengeance.


---

$6.99

ISBN: 9780440414124

Availability: Click Title for IN STOCK Location

Published: Yearling - September 8th, 1997

Celebrate the 25th anniversary of the Newbery and Coretta Scott King Honoree about an unforgettable family on a road-trip during one of the most important times in the civil rights movement.


---

$8.99

ISBN: 9780147510488

Availability: Click Title for IN STOCK Location

Published: Puffin Books - May 31st, 2016

*Newbery Honor book
*Winner of the 2016 Schneider Family Book Award 

This #1 New York Times bestseller is an exceptionally moving story of triumph against all odds set during World War II. For fans of Counting by 7s and Sarah, Plain and Tall.
 

---