$17.99
ISBN: 9781984847973
Availability: Click Title for IN STOCK Location
Published: Doubleday Books for Young Readers - November 5th, 2019
The differences between cats and dogs have never been funnier! In this hilarious new story from the illustrator of I Don't Want to Be a Frog, a little girl really, really wants a dog . . . but gets a cat instead!

---

$13.99
ISBN: 9781250208071
Availability: Click Title for IN STOCK Location
Published: Roaring Brook Press - January 7th, 2020
See Kitty as you've never seen her before: EXERCISING (reluctantly) in Bad Kitty Joins the Team, the latest installment of Nick Bruel's phenomenally successful New York Times bestselling series.
---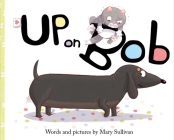 $17.99
ISBN: 9781328994714
Availability: Coming Soon - Available for Pre-Order Now
Published: HMH Books for Young Readers - February 11th, 2020
Geisel Honor winner Mary Sullivan humorously and deftly delivers a sweet spin on cat-and-dog rivalry. Perfect for fans of Kelly DiPucchio and Vera Brosgol.

Bob the dog doesn't mind hard work when it means he can reward himself with a nap. But Someone is watching him sleep!

---

$9.99

ISBN: 9780062868299

Availability: Coming Soon - Available for Pre-Order Now

Published: HarperCollins - February 4th, 2020

#1 New York Times bestseller Kimberly and James Dean turn it up in Pete the Cat's groovy adaptation of the classic children's song "Five Little Monkeys"—with a hippity hoppity twist!

One night, Pete the Cat was bunnysitting five little bunnies when all a sudden…

Five little bunnies hopping on the bed....!

---

$17.99

ISBN: 9780316524858

Availability: Click Title for IN STOCK Location

Published: Little, Brown Books for Young Readers - December 3rd, 2019

From the author of the modern classic and bestselling phenomenon The Invisible String comes a tender story about permanent loss that also celebrates the joy that animals give us in this life and beyond.


---

$17.99

ISBN: 9781984830081

Availability: Usually Ships in 1-5 Days

Published: Doubleday Books for Young Readers - January 7th, 2020

Got a problem? Having a tough day? Maybe you need . . . EMERGENCY KITTENS!!!!!

Who needs boring ol' superheroes who leap giant buildings and run faster than locomotives when your day can be saved by the cuddly, super-cute, full-on feline charm of Mimi, Twee-Twee, and Adorbs, aka EMERGENCY KITTENS!!!


---

$16.99

ISBN: 9781492683742

Availability: Usually Ships in 1-5 Days

Published: Sourcebooks Young Readers - January 7th, 2020

"I raced through this book...a little bit Golden Compassand all adventure."--Amie Kaufman, New York Times bestselling author

---

$12.99

ISBN: 9780062974020

Availability: Coming Soon - Available for Pre-Order Now

Published: HarperCollins - March 31st, 2020

Kindness is cool!

Pete the Cat shares some groovy words on kindness in this fun collection of his favorite famous quotes about sharing, lending a helping hand, and having compassion for others.

---

$6.99

ISBN: 9781250233288

Availability: Click Title for IN STOCK Location

Published: Square Fish - December 31st, 2019

Bad Kitty has a visit from some young feline frenemies in this twelfth installment of the New York Times bestselling chapter book series.

There's terrible news in the neighborhood next to Kitty's!

A conflict there is growing worse and worse. It started as an argument and has now turned into a full-fledged fight. Worst of all: The cat shelter has been destroyed.

---

$14.99

ISBN: 9781684154364

Availability: Usually Ships in 1-5 Days

Published: KaBOOM! - November 5th, 2019

Garfield plays both matchmaker and private eye in this helping heaving of short stories featuring the cat and his pals.

The gang's all here for another delicious serving of Garfield goodies!

---

$16.99

ISBN: 9780802855305

Availability: Click Title for IN STOCK Location

Published: Eerdmans Books for Young Readers - November 5th, 2019

---

$4.99

ISBN: 9780063002128

Availability: Coming Soon - Available for Pre-Order Now

Published: HarperCollins - March 31st, 2020

Based on the all-new animated preschool show on Nickelodeon, this early reader is purrrr-fect for any 44 Cats fan! For the first time ever, little ones can read and rock out with The Buffycats in this level 1 early reader.

In this story, Lampo, Milady, Meatball, and Pilou come together to form the greatest rock band of all time—The Buffycats!

---