$5.99
ISBN: 9781681193380
Availability: Usually Ships in 1-5 Days
Published: Bloomsbury USA Childrens - December 26th, 2017
Welcome to an enchanted land ruled by unicorn princesses! Cressida Jenkins, a unicorn-obsessed girl who is sure that unicorns are real, is invited to visit, and readers will be thrilled to journey to the Rainbow Realm along with her! In each story, Cressida is called to help a unicorn princess and her sisters in a magical adventure.

---

$7.99
ISBN: 9780374300210
Availability: Usually Ships in 1-5 Days
Published: Farrar, Straus and Giroux (BYR) - June 3rd, 2014
Don't miss the other books in this adorable series: If Animals Said I Love You, If Animals Celebrated Christmas, and If Animals Went to School!

What if animals did what YOU do? This bestselling story imagines how animals would kiss their loved ones good night!

---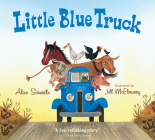 $7.99
ISBN: 9780544568037
Availability: Click Title for IN STOCK Location
Published: HMH Books for Young Readers - July 7th, 2015
Beep! Beep! Beep! Meet Blue. A muddy country road is no match for this little pick up--that is, until he gets stuck while pushing a dump truck out of the muck. Luckily, Blue has made a pack of farm animal friends along his route.

---

$10.99

ISBN: 9780399226908

Availability: Click Title for IN STOCK Location

Published: World of Eric Carle - March 23rd, 1994

THE all-time classic picture book, from generation to generation, sold somewhere in the world every 30 seconds! Have you shared it with a child or grandchild in your life?

Including a special feature, die cuts, this beautiful board book edition, perfect for teaching the days of the week, offers readers an interactive experience. 


---

$7.99

ISBN: 9780374360979

Availability: Usually Ships in 1-5 Days

Published: Farrar, Straus and Giroux (BYR) - August 6th, 2013

THE NEW YORK TIMES BEST SELLER IS NOW A BOARD BOOK FOR THE SMALLEST OF SMALL FRY!

Deep in the water,
Mr. Fish swims about
With his fish face stuck
In a permanent pout.

Can his pals cheer him up?
Will his pout ever end?
Is there something he can learn
From an unexpected friend?


---

$7.99

ISBN: 9781250144058

Availability: Click Title for IN STOCK Location

Published: Square Fish - August 29th, 2017

A New York Times bestseller!

A touching story about a girl and her dog, perfect for young animal lovers.


---

$9.99

ISBN: 9780545935180

Availability: Click Title for IN STOCK Location

Published: Graphix - December 26th, 2017

Action and mystery abound on the movie set in the fourth Dog Man book from worldwide bestselling author and artist Dav Pilkey.

---

$5.99

ISBN: 9781681193342

Availability: Usually Ships in 1-5 Days

Published: Bloomsbury USA Childrens - December 26th, 2017

Welcome to an enchanted land ruled by unicorn princesses! Cressida Jenkins, a unicorn-obsessed girl who is sure that unicorns are real, is invited to visit, and readers will be thrilled to journey to the Rainbow Realm along with her! In each story, Cressida is called to help a unicorn princess and her sisters in a magical adventure.

---

$9.99

ISBN: 9780545935173

Availability: Click Title for IN STOCK Location

Published: Graphix - August 28th, 2018

The Supa Buddies convene to deal with some new villains in the fifth Dog Man book from worldwide bestselling author and artist Dav Pilkey.

---

$6.99

ISBN: 9780807588970

Availability: Usually Ships in 1-5 Days

Published: Albert Whitman & Company - January 1st, 2000

Anger is a scary emotion for young children, their parents, and caregivers. As this little bunny experiences the things that make her angry, she also learns ways to deal with her anger--ways that won't hurt others.

---

$6.99

ISBN: 9781416947370

Availability: Click Title for IN STOCK Location

Published: Little Simon - May 8th, 2007

Rod Campbell's classic lift-the-flap book Dear Zoo has been a firm favorite with toddlers and parents alike ever since it was first published in 1982.

Young readers love lifting the flaps to discover the animals the zoo has sent—a monkey, a lion, and even an elephant!

---

$5.99

ISBN: 9781338305845

Availability: Click Title for IN STOCK Location

Published: Scholastic Paperbacks - December 26th, 2019

SOON TO BE A MAJOR MOTION PICTURE!
"I wish I'd had these books as a kid. Hilarious!" -- Dav Pilkey, creator of Captain Underpants and Dog Man

They may look like Bad Guys, but these wannabe heroes are doing good deeds... whether you like it or not! This New York Times bestselling illustrated series is perfect for fans of Dog Man and Captain Underpants.


---