$29.99
ISBN: 0000772048484
Availability: Special Order
Published: Melissa & Doug - March 13th, 2013
---
$29.99
ISBN: 0000772048354
Availability: Click Title for IN STOCK Location
Published: Melissa & Doug - September 27th, 2012
---
$43.99
SKU: 0847942021454
When Ava was 3 years-old, she developed a limp in her right leg. After an emergency MRI that day, a biopsy of her leg, and an eventual discovery of her primary kidney tumor, her family was told that she had stage IV high-risk neuroblastoma that had spread to her pelvis, right leg, spinal column, skull and midsection. Ava has had 6 rounds of chemo, 9 surgeries, a bone marrow transplant, radiation and 5 rounds of antibody therapy. For 15 months, Ava had no evidence of disease, until she had a relapse in her skull. She needed extensive specialized treatment. She is currently enrolled in the Bivalent Vaccine clinical trial to hopefully keep her disease-free. She is sweet, loves dolls, dress ups and her friends. Ava is one of the most courageous young women that we know, she has fought this terrible disease with such bravery and grace. She is our LITTLE HERO!!!

Ava hopes that by designing this dress she can help other kids like her find courage to fight this terrible disease.

Little Adventures has partnered with Ava to design her very own princess dress to help bring awareness to childhood cancer. Every Princess Ava dress purchased gives Ava and children liker her the much needed help to battle cancer.
---
$36.99
SKU: 0847942021515
If you are ready for an adventure, this dress is perfect! Rich black and red dress with accenting hearts comes complete with a gleaming golden crown. She'll look like she jumped straight out of wonderland.
---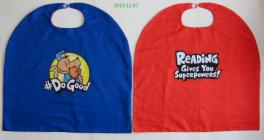 $10.99
ISBN: 9781338677744
Availability: Click Title for IN STOCK Location
Published: Scholastic - April 1st, 2020
Pilkey fans will flip (get it?) for this 2-sided cape featuring Dog Man's #DoGood art on a blue background and Captain Underpants' Reading Gives You Superpowers catchphrase on a red background. Perfectly sized for Supa-Readers.
---
$33.99
SKU: 0847942020969
This classic storybook Alice dress up features a blue knee length dress with a white pinafore style apron. Also includes the matching hair bow. Features: Clothing quality fabrics; machine washable.
---