Join us to celebrate the publication of two new books from Dorset author Liza Ketchum: her memoir The Last Garden and the children's book Begin with a Bee. We'll be joined by her bee book co-authors Jacqueline Briggs Martin and Phyllis Root along with illustrator Claudia McGehee.

$24.84

ISBN: 9781605715186
Availability: IN WAREHOUSE - Usually Ships in 1-5 Business Days
Published: Shirespress - March 1st, 2021
---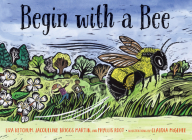 $17.95

ISBN: 9781517908041
Availability: Click Title for IN STORE Location
Published: Univ Of Minnesota Press - May 25th, 2021
---
Event address:
Reserve a ticket on eventbrite to get the zoom link for this event!
Event date:
Thursday, June 3, 2021 - 6:00pm