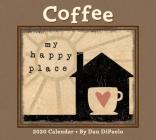 $15.99
ISBN: 9781449497811
Availability: Usually Ships in 1-5 Days
Published: Andrews McMeel Publishing - June 11th, 2019
Add a cool coffeehouse vibe to your home with the Coffee 2020 Deluxe Wall Calendar by Dan DiPaolo.

Robust, coffee-hued art and java-related sayings give each month a gentle jolt and any caffeine addict a welcome buzz. Complete with a matching envelope,
the calendar is printed on linen-textured paper, and the hang hole is reinforced with a brass grommet.
---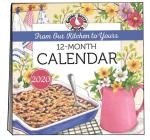 $13.95
ISBN: 9781620933190
Availability: Usually Ships in 1-5 Days
Published: Gooseberry Patch - May 2019
With 12 months of inspiring artwork, delicious recipes and plenty of cheer for all year long, our 2020 Wall Calendar is a perennial favorite Each month brings you a new homestyle dish to try, plus handy tips and our own original watercolor artwork, all celebrating the very best of every season. Great for giving, they're perfect for your kitchen, office or both.
---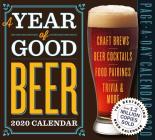 $14.99
ISBN: 9781523506033
Availability: Click Title for IN STOCK Location
Published: Workman Publishing Company - July 30th, 2019
America's bestselling beer calendar!

Savor a year of ale-centric trivia, history, and expert recommendations for an impressive assortment of complex, flavorful pints—like the velvety, licorice-tinged Bell's Porter, or the Noble Prize Imperial Pilsner, which has clean, quenching carbonation and a delightful, surprising whiff of carnation flowers.

---

$14.99

ISBN: 9781631365515

Availability: Click Title for IN STOCK Location

Published: Amber Lotus Publishing - July 2019

---

$14.99

ISBN: 9781549209642

Availability: Coming Soon - Available for Pre-Order Now

Published: Willow Creek Press Calendars - August 29th, 2019

From the internet's favorite kitchen straight to your home, Tasty(TM) brings together the best comfort food, simple snack hacks, and decadent desserts in one 18-month calendar.

---

$14.99

ISBN: 9781549209451

Availability: Coming Soon - Available for Pre-Order Now

Published: Willow Creek Press Calendars - August 2nd, 2019

---

$14.99

ISBN: 9781631365720

Availability: Usually Ships in 1-5 Days

Published: Amber Lotus Publishing - July 2019

---

$14.99

ISBN: 9781523506828

Availability: Click Title for IN STOCK Location

Published: Workman Publishing Company - July 23rd, 2019

Celebrate teatime, that most delightful interlude of the day.

Teatime conjures an array of civilized pleasures: finger sandwiches and pastries. Plush seats for settling into over good conversation. Aromatic, steaming tea. And, of course, delicate, glorious, gorgeous sets of china.

---

$14.99

ISBN: 9781419737459

Availability: Coming Soon - Available for Pre-Order Now

Published: Abrams Calendars - July 30th, 2019

Based on the book The Power of Sprinkles, this 16-month wall calendar features the extraordinary confections of the masterful cake maker Amirah Kassem.

---

$14.99

ISBN: 9781549209635

Availability: Coming Soon - Available for Pre-Order Now

Published: Willow Creek Press Calendars - August 22nd, 2019

From the internet's favorite kitchen straight to your home, Tasty(TM) brings together the best comfort food, simple snack hacks, and decadent desserts in one daily calendar.

---