Submitted by
wmarie@northshi...
on Wed, 10/23/2019 - 6:51am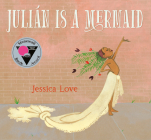 $16.99
ISBN: 9780763690458
Availability: Click Title for IN STOCK Location
Published: Candlewick - April 23rd, 2018
A beautiful story that made me smile. It is about a young child exploring gender fluidity. Jessica Love's colorful illustrations carry a sense of joy that engages children. The acceptance and support that the child receives from their family provides a good springboard for discussions dealing with societal conformity versus embracing who we truly are as individuals.
---