Submitted by
ngeorge@northsh...
on Thu, 09/21/2017 - 8:56am
When I was a lad I went through a phase, as many children do, of enjoying ghost stories. I read many a volume of supernatural lore, some scary and some disappointingly tame. When pressed to name the scariest book of my childhood I don't need to give it a thought. That honor goes to Scary Stories to Tell in the Dark by Alvin Schwartz.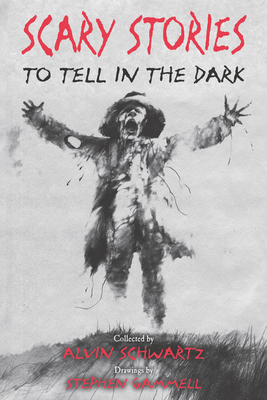 This book and it's subsequent two volumes were infamous among elementary age kids in the mid 1980s to early 1990s. The stories themselves aren't all that scary on their own. It was the illustrations that did it. Illustrator Steven Gammell managed to create images that were simultaneously vivid and vague in black and white. They seem to melt out of the page in a dendritic, tendril-like way. When I was a kid these images scarred the crap out of me. I oscillated between excitement and trepidation before opening each book and dreaded every turn of the page. Yet the ex post facto fear was never enough to keep me away for long even though I swore I'd never read SSTD ever again.
I was deeply disappointed when I discovered, to my horror and dismay, that later editions did not feature the original artwork. I'm sure Brett Helquist is a fine artist, but compared to Steven Gammell's, his illustrations are timid and fit for those recovering from major surgery. What a happy surprise to discover that a new edition of all three works was published in late July of this year, including the original artwork. Northshire carries this most recent edition but beware that non-Gammell editions are out there.
As October 31st draws closer, give Scary Stories to Tell in the Dark a read. If you haven't read this series since you were a kid I think you'll find that, although the stories aren't as scary as they once were, the illustrations hold up well. If you have children in your life who like (or need) a good scare, grab a copy for them. Even though I endured many childhood nights in which sleep did not come easily, if I had it to do over again, I wouldn't change a thing.