Submitted by
ngeorge@northsh...
on Mon, 10/02/2017 - 9:30am
It began as a game between my co-worker and I: who could be the first to snag a copy of Rupi Kaur's milk & honey? Every day two books would come in, and immediately two books would be snapped up by customers. We asked ourselves, who was this new poet no one had heard of , with her books flying off the shelves? When was the last time a book of poetry had been a bestseller, even in the hayday of our greatest writers? As of 9/8/17, milk & honey had more than 89K ratings on GoodReads and over 10,000 reviews, averaging to a 4.26 out of 5-start rating. The book surpassed one million sold copies only one year past its publication date.In January 2017, it reached #1 on the New York Times list, and remained on the trade paperback bestseller list for 41 consecutive weeks. Bustle called it "Essential Reading" echoing The Huffington Post's article titled "The Poet Every Woman Needs to Read".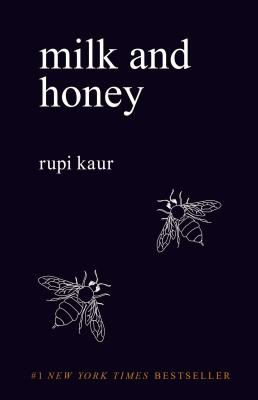 But why?
Booksellers like to talk to one another about books (surprise!) and my colleagues and I have had several conversations not only about Kaur, but about capital-P POETRY, what it means, what it is becoming, and how it functions in the world today. Here's what we came up with:
1) The Resembling
If you don't have an MFA in Poetry, your last experience with a poem was probably in high school, and probably Shakespeare. It probably sounded like this: "Ere long espied a fickle maid full pale / Tearing of papers, breaking rings a-twain", etc. Maybe you were lucky enough to also have some Whitman, or Maya Angelou, or one of the Beat poets. But chances are you worked with an Old Dead White Guy's poem, full of the formal language and technique of his day. Kaur and her poems may as well be polar opposite of that definition of poetry. As an Indian Sikh woman who emigrated to Canada at the age of four, Kaur noted in The Guardian, "I don't fit into the age, race or class of a bestselling poet." Her poetry is not difficult to read or to understand. It has no capitalization and little punctuation, a form traditional to Kaur's mother tongue punjabi. Many other poets who have sprung to popularity have something in common with Kaur: from R.H. Sin, a black male; Amanda Lovelace, a white female; Lang Leav, a female Thai immigrant; and Atticus, whose identity remains under wraps; these poets do not resemble the monolith of inaccessible old white male poetry, but look and sound more like their readers.
2) The Relating
Of course you can be as young and wordly as anyone, but you'll get nowhere if you aren't talking about something your readers understand. On her website, Kaur mentions that she was an avid reader her entire life, but what she was always searching for something "written by people who look like me writing about the things i am going through" [sic]. Milk & Honey is sorted into four chapters: The Hurting, The Loving, The Breaking, The Healing. While the poems have been criticized as angsty breakup poems and overemotional unrefined gushing, it's worthwhile to remember that a lot of readers (especially younger ones) tend to go through this hyperbolic level of emotion. In an interview with the Guardian, Kaur wryly noted that "People aren't used to poetry that's so easy and simple", that does not require intense analysis, and is meant, in Kaur's own words, to beget "comfort and peace". And be honest: which is easier to understand, Christina Rossetti's "When you can no more hold me by the hand / Nor I half turn to go yet turning stay", or Kaur's "The way they / leave / tells you / everything"?
3) The Instagramming
"Accessible" does not only refer to the apparent simplicity of Kaur's poems: they are also very "Instagrammable." Try taking a picture of the famous sonnet "How do I love thee? / Let me count the ways" by Elizabeth Barret Browning and share it in a way that's readable on a screen the size of your hand. Now try the same thing for one of Kaur's three-to-seven-line poems. Many are short enough to fit into a single tweet, which all makes the dissemination of her work incredibly easy. Rupi Kaur has admitted frankly that she would never have enjoyed the success she has without social media. It does not hurt that she stirred up attention far before her poetry was published, when she criticized Instagram for censoring a photo essay she had posted depicting menstrual stains. Eventually ceding to the pressure, Instagram reinstated the photos, and Kaur gained a reputation as a bold champion of women's experience.
4) The Introducing
Out of the long line waiting outside of a venue where Kaur was slated to perform, the Guardian picked one 20-year-old woman to ask her why she was there. She answered that reading milk & honey had changed how she had seen poetry; had "dusted off its cobwebs" and made it something that spoke to her. This sentiment was echoed by Atticus, another InstaPoet, who mentioned in an interview that it's difficult to teach someone like James Joyce in a school and expect interest from a younger generation. Instagram poetry, on the other hand, is rising and reaching the same group that older poems are missing. And, he says, it's kind of a gateway drug. Rishi Dastidar, the assistant editor at The Rialto, reminds us that poetry isn't just an expression of feeling, but how that expression is shaped. InstaPoetry is another shaping, and it's a step into the world of poetry that for so many seemed like an inaccessible cobwebby bore.
In the store, every time a young person asks for milk & honey, I send them to the Poetry section. Which means that now, they know where the poetry is in the store. Now they know how to seek it out. Now they will spend some time looking at the books full of poems. And maybe, just maybe, they might pick one up, and read it. And that is truly the phenomenon at play here.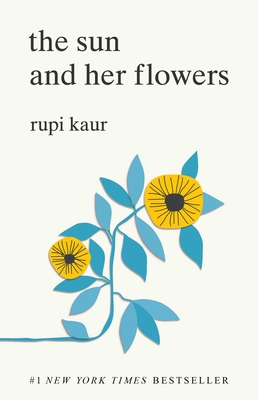 * Read your Rupi Kaur, and want more? Before she releases the sun and her flowers on Oct. 3rd, check out R.H. Sin's Whisky Words & a Shovel trilogy, Amanda Lovelace's The Princess Saves Herself in This One, Tyler Knott Gregson's typewriter series, and Atticus's Love Her Wild.
*Read your Rupi Kaur, and are ready to explore new styles? Check out these other emerging young poets with a distinctly different style: Neil Hilborn Our Numbered Days, Sabrina Benaim's Depression and Other Magic Tricks, Olivia Gatwood's New American Best Friend, Kate Tempest's Hold Your Own...or take your time perusing our poetry section.
-Katelynne Shimkus