Submitted by
dwraga
on Fri, 02/23/2018 - 4:54pm
This past fall ShiresPress published Lady Lucy's Quest. Lucy is the story of a feisty young girl who wants to be a knight in the Middle Ages. She confronts many hurdles but ultimately finds success because she is able to solve problems in a unique and unexpected way. Through her actions and words, she demonstrates the importance of pursuing one's dreams and the power of the possible for children everywhere.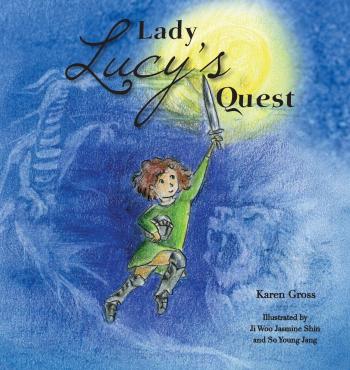 I had the opportunity to travel with the author this fall to a book launch out in California where the author read to both adults and groups of children. Whether you are a teacher or a parent, reading aloud is a fun and effective way to connect. I was reminded why putting books in the hands of children, young and old, is so very important.
Let me share my story...the author, Karen Gross, wrote a story both in English and Spanish about a feisty young girl who wants to be a knight and chose Northshire Bookstore to publish the book. You might be interested to know that there is a fascinating back story tied to history that interests adults and older children about Lucy. Lucy is based on a real person, Lady Lucy Duff-Gordon. Her story is one well worth knowing although time and history have, sadly, forgotten her. She was a famous fashion designer who survived the Titanic and yet she died in obscurity and poverty. There is also a famous legal case in which Lady Lucy is sued, Wood v. Lady Lucy Duff-Gordon, that many lawyers will recall from their first year in law school.
Another wonderful tidbit about Lucy is that the book was llustrated by two high school students from Emma Willard School in New York. The author wanted the artwork to capture the imagination of children and animate the story. The exciting news is they also illustrated a sequel, Lady Lucy's Dragon Quest.
While watching Karen engage the parents and the children while reading Lady Lucy, I was reminded why I LOVE WHAT I DO. I watched a grown woman cry when she was knighted, had a little boy ask me, "Can I take a copy home to my grandpa so he can read it?" I had another child ask, "If it was ok if he slept with the book under his pillow?" I had a little girl ask, "If she could take a second copy for her big sister?" How can you say no to any of those questions?
Karen uses a feather, finger puppets and illuminated fireflies while reading that engages everyone which not only animates the story but brings the characters to life. These simple things engages the youngest children and even has the older children sitting on the floor participating. Karen has partnered with LA Care, the largest public insurer in our nation on a new initiative aimed at helping caregivers and children learn about and experience engaged reading.
I think what inspired me most was watching these children's eyes light up as Karen asked them "Do you want be a knight?" Now I don't know about you, but I never dreamed about being a knight. I had many other dreams as a child, but now after reading Lady Lucy's Quest, and listening to Karen read about Lady Lucy, I must confess I may have had a dream or two about becoming a knight. More importantly though, I am very grateful that I work in a bookstore where we have books that will inspire the imagination of children and adults of all ages.
Debbi Wraga