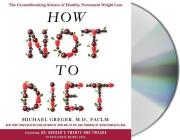 $59.99
ISBN: 9781250240590
Availability: Click Title for IN STOCK Location
Published: Macmillan Audio - December 10th, 2019
This program is read by the author.

Discover the cutting-edge science behind long-term weight loss success, in this powerful new audiobook from the New York Times bestselling author of How Not to Die.
---

$35.00
ISBN: 9780593147917
Availability: Click Title for IN STOCK Location
Published: Penguin Audio - November 5th, 2019
The New York Times bestseller now in paperback with a new epilogue.

---
$30.00
ISBN: 9781549142857
Availability: Click Title for IN STOCK Location
Published: Hachette Books - November 19th, 2019
In this wickedly funny cultural critique, the author of the critically acclaimed memoir and Hulu series Shrill exposes misogyny in the #MeToo era.

THIS IS A WITCH HUNT.

WE'RE WITCHES,

AND WE'RE HUNTING YOU.

---

$39.99

ISBN: 9781250238030

Availability: Click Title for IN STOCK Location

Published: Macmillan Audio - March 31st, 2020

This program is read by Alicia Keys, with special guest appearances by family and friends, including Oprah Winfrey, Jay-Z, and Michelle Obama.

An intimate, revealing look at one artist's journey from self-censorship to full expression

---

$45.00

ISBN: 9780593167168

Availability: Usually Ships in 1-5 Days

Published: Random House Audio - February 25th, 2020

#1 NEW YORK TIMES BESTSELLER • The author of The Devil in the White City and Dead Wake delivers a fresh and compelling portrait of Winston Churchill and London during the Blitz


---

$39.99

ISBN: 9781684572380

Availability: Coming Soon - Available for Pre-Order Now

Published: HighBridge Audio - May 12th, 2020

Along Comes the Association is the story of how Russ Giguere and his fellow band members in the legendary and influential pop group The Association came together to create unparalleled music, unique to the time and place, and never again to be repeated. Yes, there were drugs, and there were women, such as the lovely Linda Ronstadt and Helen Mirren, but it was the Sixties, after all.

---

$35.00

ISBN: 9781549175282

Availability: Usually Ships in 1-5 Days

Published: Grand Central Publishing - November 5th, 2019

"One of America's most courageous young journalists" and the author of the #1 New York Times bestselling memoir Brain on Fire investigates the shocking mystery behind the dramatic experiment that revolutionized modern medicine (NPR).


---

$34.99

ISBN: 9781797105024

Availability: Usually Ships in 1-5 Days

Published: Simon & Schuster Audio - April 7th, 2020

In Arguing With Socialists, New York Times bestselling author Glenn Beck arms readers to the teeth with information necessary to debunk the socialist arguments that have once again become popular, and proves that the free market is the only way to go

With his trademark humor, Beck lampoons the resurgence of this bankrupt leftist philosophy with thousands of stories, fac

---

$39.99

ISBN: 9781684572861

Availability: Usually Ships in 1-5 Days

Published: HighBridge Audio - January 7th, 2020

Everything you've ever wanted to know about publishing but were too afraid to ask is right here in this funny, candid guide by acclaimed author Courtney Maum.

---

$34.99

ISBN: 9781684576715

Availability: Usually Ships in 1-5 Days

Published: HighBridge Audio - January 7th, 2020

Arthur Briggs's life was Homeric in scope. Born on the the tiny island of Grenada, he set sail for Harlem during the Renaissance, then to Europe in the aftermath of World War I, where he was among the first pioneers to introduce jazz music to the world.

---

$35.00

ISBN: 9781549119743

Availability: Usually Ships in 1-5 Days

Published: Little, Brown & Company - January 14th, 2020

Fight back against a modern culture that is rewiring our brains and damaging our health with this practical, doctor-approved plan for healing that includes a ten-day boot camp and forty delicious recipes.

---

$34.99

ISBN: 9781684574872

Availability: Usually Ships in 1-5 Days

Published: HighBridge Audio - November 12th, 2019

Just like us, medieval men and women worried about growing old, got blisters and indigestion, fell in love, and had children.

---