$49.95
ISBN: 9781438474731
Availability: Click Title for IN STOCK Location
Published: Rensselaer County Historical Society - September 1st, 2019
Located about 150 miles north of Manhattan, on the east bank of the Hudson River, the city of Troy, New York, was once an industrial giant. It led the nation in iron production throughout much of the nineteenth century, and its factories turned out bells and cast-iron stoves that were sold the world over. Its population was both enterprising and civic-minded.
---

$24.99
ISBN: 9784805314753
Availability: Click Title for IN STOCK Location
Published: Tuttle Publishing - October 29th, 2019
Japan's World Heritage Sites presents the exquisite temples, shrines, gardens, castles and natural wonders found throughout Japan which have now been declared UNESCO World Heritage Sites.
---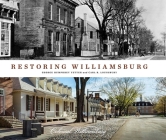 $50.00
ISBN: 9780300248357
Availability: Usually Ships in 1-5 Days
Published: Other Distribution - August 27th, 2019
A comprehensive look at Williamsburg's evolution and important role in defining our understanding of 18th-century America

Today best known as the world's largest "living history" museum, Williamsburg was the capital of the colony of Virginia in the 1700s and the setting for key debates leading to the American Revolution.

---

$85.00

ISBN: 9780847865895

Availability: Click Title for IN STOCK Location

Published: Rizzoli - October 1st, 2019

The much-awaited reissue and reexpression of the classic New York row-house book Bricks and Brownstone, with all-new and updated text, new color photography, and luxury slipcase.


---

$29.95

ISBN: 9781942155249

Availability: Click Title for IN STOCK Location

Published: Jetty House - September 1st, 2019

---

$49.95

ISBN: 9780884484905

Availability: Click Title for IN STOCK Location

Published: Tilbury House Publishers - December 10th, 2019

How to accommodate contemporary life in a historic house.

This book does not repeat basic information that is readily available in many standard DIY books about carpentry, wiring, and plumbing. Rather, it shows how to adapt those DIY skills to the specialized needs of a historic house.

---

$45.00

ISBN: 9780847864751

Availability: Usually Ships in 1-5 Days

Published: Rizzoli - September 10th, 2019

California Romantica features the most important, yet rarely seen, residential exemplars of the California Mission and Spanish Colonial styles, by such noted architects as George Washington Smith, Wallace Neff, Richard Requa, Lilian Rice, and Paul R. Williams, among others.

---

$40.00

ISBN: 9781623497941

Availability: Usually Ships in 1-5 Days

Published: Texas A&M University Press - September 17th, 2019

Many of the historic houses in and around the town of Victoria, Texas, were built between 1875 and 1910 by immigrant owners. From 1973 to 1975, with the support of a grant from the National Endowment for the Arts, Rick Gardner traveled throughout the region, taking photographs of these historic homes.

---

$60.00

ISBN: 9783899559798

Availability: Usually Ships in 1-5 Days

Published: Gestalten - November 19th, 2019

Against a backdrop of growing cities and a changing approach to how we live, there are many reasons to refurbish a home. Our buildings must continue to evolve along with us--and that takes a little imagination. Societal shifts continue to impact our homes. People live longer, and often alone. Homes will need to be updated to accommodate a changing climate.

---

$65.00

ISBN: 9780847863686

Availability: Usually Ships in 1-5 Days

Published: Rizzoli - November 12th, 2019

The first book to feature this modernist masterpiece, one of Walter Gropius and Marcel Breuer's most important residential commissions.


---

$70.00

ISBN: 9781910258415

Availability: Usually Ships in 1-5 Days

Published: Pimpernel Press - October 1st, 2019

The soft shine of wooden boards, worn and gappy. The molten luster of mahogany or worn silver; the curiosity of tricorn hat boxes or a fragment of Spitalfields silk; portraits whose owners might once have lived here. Would they have believed that these houses would stand 250 years later?

---