$44.99
SKU: 0646335110900
Availability: On Our Shelves Now
Elegant in its simplicity, this leather photo album holds two 4x6 photos per page in a compact size that tucks nicely into any size bookshelf or perches nicely on an end table.

Ringbound leather photo alm 9-1/4"? 8"?. Includes 30 Pages for 120 Photos.
---
$51.99
SKU: 0646335110047
Availability: On Our Shelves Now
Our namesake leather photo album is also our most versatile. Perfect for preserving vacations, weddings, highlights from the soccer season or a back yard barbecue. Ring bound, slip-in pocket pages for easy organizing and crystal clear photo viewing, the Gallery Photo Album comes standard with horizontal 4 x 6, 4 x 7 photo pages but will also accommodate 8 x 10 photo pages and 5 x 7 photo pages that can be swapped out upon special request (using our special instructions box located during your check-out process) or using our assortment of archival pocket refills as additions. Includes Photo Notes inserts perfect for recording photo details. Black scrapbook pages and Ivory scrapbook pages are also available.

Ringbound bonded leather photo album.

11.75 x 10.5 Includes 30 Sheets
60 Pages that are acid free for 120 Photos and 60 Photo Notes.
---
$47.99
SKU: 0646335113680
Availability: On Our Shelves Now
---
$47.99
SKU: 0646335113604
Availability: On Our Shelves Now
---

$10.99

ISBN: 9781441310538
Availability: IN WAREHOUSE - Usually Ships in 1-5 Business Days
Published: Peter Pauper Press - November 5th, 2012
---

$10.99

ISBN: 9781441310552
Availability: IN WAREHOUSE - Usually Ships in 1-5 Business Days
Published: Peter Pauper Press - November 5th, 2012
---

$10.99

ISBN: 9781441310545
Availability: IN WAREHOUSE - Usually Ships in 1-5 Business Days
Published: Peter Pauper Press - November 5th, 2012
---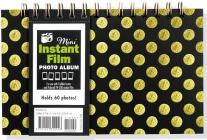 $10.99

ISBN: 9781441322456
Availability: IN WAREHOUSE - Usually Ships in 1-5 Business Days
Published: Peter Pauper Press - January 1st, 2017
---